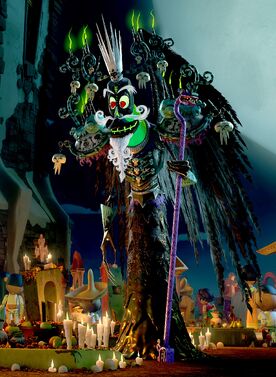 Xibalba 
(voiced by Ron Perlman) is an ancient, immortal god, the dark ruler of the Land of the Forgotten and the husband of
La Muerte
.
Trivia
Jaden and Jeffrey will meet Xibalba in Jeffrey, Jaden & Friends read The Book of Life.
Xibalba dated humans before he met La Muerte and that's why he feels about humanity the way he does.
Xibalba is a few centuries older than his wife, La Muerte.
However he is younger than The Candle Maker.
His name comes from the Mayan word or term for the Mayan underworld, Xibalba, which means, "place of fear."
Xibalba's blood-red skull eyes can swivel in Xibalba's eye sockets depending on what direction Xibalba is facing.

Xibalba can teleport magically by transforming himself into a gooey puddle of black tar.

La Muerte's nickname for Xibalba is "Balby."
Xibalba was once a knight in the heavens but he got cocky and was punished.

Though, Xibalba has wings, he doesn't necessarily need them to fly.

Twilight and Kyle will meet Xibalba in Twilight and Kyle reads The Book of Life, then he'll join the team as part of Team Owl.
Xibalba is Kyle Aker's grandfather
Community content is available under
CC-BY-SA
unless otherwise noted.