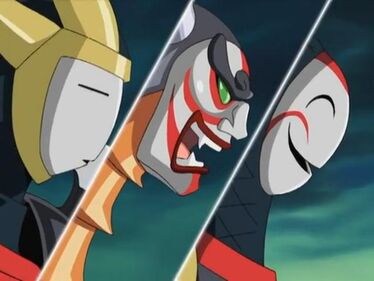 Triple Play 2
 is an upcoming Jeffrey, Jaden & Friends' Storm Adventures Chronicles episode to be made by Ren the God of Humor and Tigerman531.
Plot:
Mirage sends the Three Masked Knights to face the Justice Guardians in a triple Duel. Jeffrey duels Anger Mask, Xion faces Laughter Mask, and Aqua faces Silent Mask.
Trivia
Mirage and the Three Masked Knights will guest star in this.
Scenes
Xion vs. Laughter Mask
Laughter Mask: *laughs*
Xion: What are you laughing at?
Laughter Mask: *laughs* You're a riot!
Xion: What's that supposed to mean?
Tammy: I don't get it.....
DJ: And I thought the Joker was weird.
Laughter Mask: We'll see who's laughing after this! *draws a card* I play a face down and summon Fool Clown in Attack Mode! *Fool Clown gets summoned* And when he's on the field, all the cards in my hand go to the Graveyard! *laughs* Isn't that hysterical?!? *laughs*
Xion: *sarcastically* Funny.
Laughter Mask: What? You've heard that one?
Xion: Too many times.
Laughter Mask: How about this? *puts his cards in the Graveyard* This one's a real knee-jerker!
(An explosion takes place on Xion's side of the field)
Xion: Whoa!
Tammy: XION!!!!!!
Mirage: *laughs as she watches* This is turning out better than I hoped.
Laughter Mask: *has three cards taken out of his Graveyard* Fool Clown also allows me to remove Rough Exploder from my Graveyard. *laughs* Which means you lose 500 points for each one! And since I sent three to the Graveyard- *laughs* - you lose - *laughs* - a lot!!!! *laughs*
(Xion's Life points drop to 2500)
Xion: *growls*
Laughter Mask: Do you get it?! Do you?! Do you?! *laughs* Now that was a good one!
Xion: You won't be laughing when I'm done!
Laughter Mask: Wow. Tough crowd.
Tammy: This guy's not funny at all!
DJ: I know, right?
Xion: I summon Cyber Harpie Lady in attack mode! *Cyber Harpie Lady gets summoned* Then I activate Cyber Shield, giving Cyber Harpie Lady an additional 500 attack points! *The card's attack points increase from 1800 to 2300!* Now Cyber Harpie Lady, get rid of that Fool Clown!
Jeffrey vs. Anger Mask
Anger Mask: I'm in a bad mood, so watch out!
Jeffrey: I'd control my temper if i were you, bub.
Anger Mask: Don't tell me what to do, "bub"!!!
Jeffrey: Then make your move already. I haven't got all day.
Anger Mask: Whatever! *draws a card* I'll throw a face down. And summon Anchor Knight in Attack Mode! *Anchor Knight is summoned* You like that?! He'll rip your head off!!
Jeffrey: Let him try.
Anger Mask: You ain't seen nothing yet! *discards three cards* Because for each of these discards, you get whacked for 600 points!!!
(Anchor Knight attacks Jeffrey)
Jeffrey: *groans* Not bad, but it'll take more than that to beat me.
Anger Mask: What's the matter, Jeffrey?! Don't you know that anger is a gift?!
Jeffrey: In my experience, anger is dangerous.
Anger Mask: Lucky for you I'm feeling generous today!!
Jeffrey: Hm...
Jaden: Be careful, big bro!
Jeffrey: I'll be all right, little bro.
Anger Mask: Hey! It's your move!!
Jeffrey: I summon Big Shield Gardna in defense mode. *Big Shield Gardna is summoned* Then I place two cards down and end my turn. *puts two cards down*
Anger Mask: What's the matter?! You're not gonna attack?!
Jeffrey: Not until I want to. *thinks to himself* Because I have a feeling you got something planned.
Community content is available under
CC-BY-SA
unless otherwise noted.