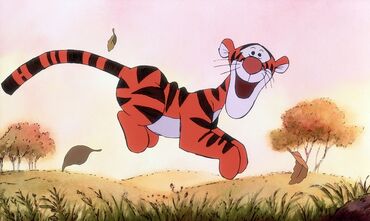 Tigger
(currently voiced by Jim Cummings) is a fictional character from the
Winnie the Pooh
books and movies. Although he categorizes himself as a self-named species (of which he is the only one), he looks a lot like a tiger. He first appeared in A.A. Milne's book
The House on Pooh Corner,
but is most famously known for his many appearances in Disney media, starting with 1968's
Winnie the Pooh and the Blustery Day.
Voice actor and ventriloquist Paul Winchell originated Tigger's voice and continued to voice him through the '70s, '80s, and '90s, in alternation with Jim Cummings. However, after 1999's
Winnie the Pooh: A Valentine for You,
Cummings became the offical new voice of Tigger, beginning with 2000's
The Tigger Movie.
Tigger is a carefree soul. He is fun-loving and adventurous, though somewhat naive. His favorite activity is "bouncin'" on his springlike tail. More often than not, he bounces into other residents of the Hundred Acre Wood. The only one who really cares is Rabbit. Pooh doesn't really care, and Eeyore, with his downer attitude, thinks he somehow deserves it. Another feature of Tigger's are his stripes. He strongly believes that the stripes make the tigger; without stripes, he isn't a tigger. This is explored in the
New Adventures of Winnie the Pooh
episode "Stripes", when his stripes are washed off when he's forced to take a bath. He tries being other things, but he is no good at any of them. However, once Eeyore tells him that stripes don't matter, as he is still a tigger inside, he resumes being a tigger.
Tigger is also a key member of the long-running and incredibly popular Pooh's Adventures series. Although several versions of the series, he, Pooh, Piglet, Rabbit, and Eeyore are constant members.
Gallery
Trivia
Tigger first adventured with the Pooh gang in Pooh's Adventures of Beauty and the Beast.
Community content is available under
CC-BY-SA
unless otherwise noted.