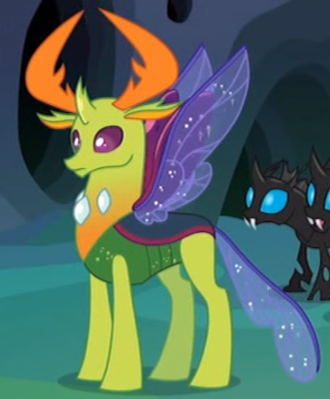 Thorax
(voiced by Kyle Rideout) is a Changeling in
The Times They Are a Changeling
. Unlike other Changelings, Thorax is a friendly one who wishes to share love instead of taking it.
Gallery
Trivia
Even though the team was unable to trust Thorax yet, Jeffrey gave him one chance to prove that he can do some good and earn their trust.
Hiccup, Steven, and Toothless at first didn't trust him, but after hearing his story, they weren't so sure, but after the great progress, they help him out.
Thorax will first appear in a new episode of ​Twilight's Adventures Chronicles called ​"Is a Changeling a Friend or Foe?" ​and during the seventh season it'll be based of to The Return of Jafar, and The Lion King 2: Simba's Pride which The Rainbooms aren't able to trust him, but after his story, Twilight and Spike are the first ones to trust him. 
SPOILER ALERT: Thorax will return in Jeffrey, Jaden, Hiccup & Juniper Lee's Storm Adventures of My Little Pony: Friendship is Magic - To Where and Back Again, and become the new leader of the Changelings. Thorax will also join Team Berk at the end.
Community content is available under
CC-BY-SA
unless otherwise noted.