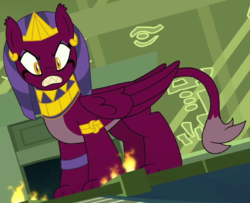 The Sphinx is a creature in My Little Pony: Friendship is Magic. In Somnambula's legend, the sphinx menaces a desert village and claims most of its crops for herself. When the son of the pharaoh stands up to the sphinx, she captures him and challenges the other villagers with a riddle for his release. Somnambula beats the sphinx's riddle challenge as well as her blindfolded bridge-walking challenge, and the sphinx flies off in a rage.
Trivia:
Community content is available under
CC-BY-SA
unless otherwise noted.