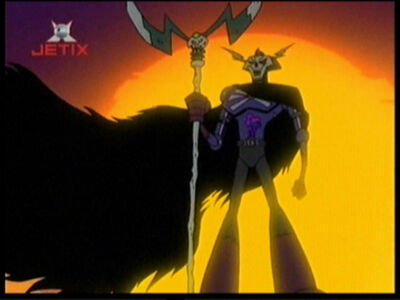 "You've had your chance. I won't trust you with another." - Skeleton King to Zigzag
The Skeleton King (voiced by Mark Hamill) is the leader of The Formless Minions, & is the main antagonist of Super Robot Monkey Team Hyper Force Go! He was once an alchemist, which is a person who can combine Science & Magic into one, before he was tainted by the dark ones, mainly The Heartless. He was once kind, & helpful, until The Heartless appeared, they tainted his heart with darkness, as he began to warp into becoming a monstrous man. Before this happened, he called upon Athena, to warn the adventure teams of what was to happen to him, & asked her to tell them not to remember him not as a monster, but as the person he was, soon after he left for his home, the evil in his heart has finally consumed him, & he became known as The Skeleton King. The Skeleton King is both, powerful and terrible, with the power to control the forces of the undead.
Design
The Skeleton King is shown as a living breathing talking skeleton. He lives in a floating craft known as, The Citadel of Bone, which can turn into living skull dragon he can ride on. He can even transwarp anyone into something completely different, like change a young person into a senior, or even take his own eyeball, & turn it into a monster. His staff is made of bone, with a small skull on the top, and blades sticking out the sides so he can use it for magic, and as weapon.
Trivia
The Skeleton King will become Aaron's enemy in Aaron Meets Stellaluna, watching them from his citadel.
The Skeleton King is like the alternate version of The Horned King.
The Skeleton King and Joker are two of many roles Mark Hamill did over the years.
The Skeleton King is the father of the Supreme King.
Community content is available under
CC-BY-SA
unless otherwise noted.