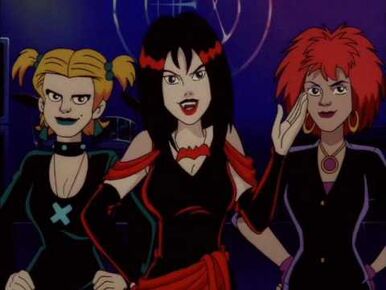 Thorn
(voiced by Jennifer Hale)
​, Dusk
(voiced by
Jane Wiedlin)
 & Luna
(voiced by
Kimberly Brooks) are a female eco-goth rock band known as The Hex Girls and are close allies of Mystery Inc.
Members of the Band
Sally McKnight aka Thorn: Thron is the bands lead singer and guitarist. She is sultry and her voice seems to seduce audiences. She is quite shy when not on stage, and claims that she is "1/16 Wiccan on [her] mother's side" (although Wicca is a religion, not a hereditary biological condition)
Dusk: Dusk is bands drummer and back-up singer. Of the three girls, Dusk reveals herself to be the fiercest, as well as the rebel of the band, and does not like to speak much about herself. She also tends to show that she is tough, but on rare occasions she displays strong feelings of love and friendship towards her friends.
Luna: Luna is the bands keyboardist and back-up singer. Of the three, she is considered the calm, wisest one. It was her father, a dentist, who outfitted the band with their trademark fangs.
Trivia
Community content is available under
CC-BY-SA
unless otherwise noted.