This is a list of Adventure Teams.
The Jungle Adventure Crew
King Julien, Maurice and Mort
The Justice Guardians
Team Berk
76859Thomas's Thomas and Twilight Sparkle's Adventure team
Twilight Sparkle (also a member of Jeffrey, Jaden & Friends' Storm Adventures Team)
Percy the Small Green Engine
Pinkie Pie (also a member of Jeffrey, Jaden & Friends' Storm Adventures Team)
James the Red Engine
Rarity (also a member of Jeffrey, Jaden & Friends' Storm Adventures Team)
Gordon the Big Blue Engine
Rainbow Dash (also a member of Jeffrey, Jaden & Friends' Storm Adventures Team)
Henry the Green Engine
Fluttershy (also a member of Jeffrey, Jaden & Friends' Storm Adventures Team)
Toby the Tram Engine
Applejack (also a member of Jeffrey, Jaden & Friends' Storm Adventures Team)
Edward the Blue Engine
Emily the 

large Stirling Single Engine

Bash, Dash and Ferdinand the Logging Locos
Apple Bloom, Sweetie Belle and Scootaloo (also members of Jeffrey, Jaden & Friends' Storm Adventures Team)
Luke the 

Irish Narrow Gauge Tank Engine

Spike (also a member of Jeffrey, Jaden & Friends' Storm Adventures Team)
Charlie the Playful Engine
Hiro the Japanese Engine
Shining Armor and Princess Cadence (also members of Jeffrey, Jaden & Friends' Storm Adventures Team)
Rosie the Lavender Tank Engine
Victor the Cuban Narrow Gauge Engine
Kevin the four-wheeled Crane
Stanley the Silver Tank Engine
The Pooh's Adventure Teams
Pooh's Adventure Team (Daniel)
Zhane
Jean-Bob, Speed & Puffin
Jeremy
Korra, Mako, Bolin and Asami Sato
Pooh's Adventure team (Bowsermovies1989)
Winnie the Pooh
Tigger
Piglet
Rabbit 
Eeyore
Mecha-King Ghidorah (driven by Good Fairy, Anthea, and Concordia)
MechaGodzilla 3 (driven by Darth Vader, Boba Fett, and Red Genesect)
M.O.G.U.E.R.A. (driven by Darth Vader, Boba Fett, and Red Genesect)
Clone Troopers (once Stormtroopers, freed from Order 66 w/ Order 51 (reversed the effects of Order 66))
N, Anthea, Concordia and Red Genesect
Yru17's Team Members
Winnie the Pooh
Tigger
Piglet
Rabbit
Eeyore
Lumpy
Darby and Buster
Alvin, Simon, and Theodore
Jeremy the Crow
Falkor
YakkoWarnerMovies101's Pooh's Adventure team
Winnie the Pooh
Tigger
Piglet
Rabbit
Eeyore
Tennessee Tuxedo and Chumley
Poky Little Puppy and Shy Little Kitten
Tip and Dash
Spot the Puppy
Penny
Brain
Corporal Capeman
Freddi Fish
Luther
Maya and Miguel
Paco
Winslow
Max (the Grinch's Dog)
Euchariah
Robot Jones
Jackie
MattInez
Digit
Secret Squirrel and Morocco Mole
The Cluefinders
Super Chicken and Fred
Spin the Talking Globe
Megaman and Rush
Spookley the Square Pumpkin
DangerMouse
Ernest Penfold
Little Lulu
Team Umizoomi: Geo, Milli and Bot
The Animal Crackers Gang
De BlobIckis
Krumm
Oblina
Underdog
Jabberjaw, Biff, Shelly, Bubbles and Clamhead
Frankie the little Blue Dog
Ty the Tasmanian Tiger
Scaler
Malcolm, Reese, Dewey, Hal, Lois, Francis and Jamie
Artie
Pete
SwaySway and Buhdeuce
Pongo and Perdita
Becky
Beaver
Nutt-Head
Beavoe and Bug-Head
Queen Marisa Blueberry, Patrick Blueberry and Mary Blueberry
Queen Brenda Fisher
Vallony Vulture, Vincent Vulture and Vanessa Vulture
Pooh's Adventure Team (Tigerman531)
Winnie the Pooh
Tigger
Piglet
Rabbit
Eeyore
Lion (of Oz)
Baron Humbert von Gikkingen
Rosalina
Buster the Dog
Gwendolyn the Cat
Fred the Donkey
Tortellini the Rooster
Spider-Man (Miles Morales)
Pooh's Adventures team (SuperJNG18)
Winnie the Pooh
Tigger
Piglet
Rabbit
Eeyore
Shell Lodge Squad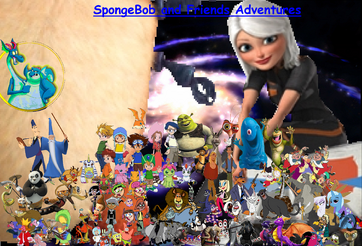 Aaron The Wise '91's Adventure team
The Miztyk Knights Team 1

Taran (Part of The Ed's Team)
Eilonwy (Part of The Ed's Team)
Fflewddur Fflam (Part of The Ed's Team)
Gurgi (Part of The Ed's Team)
Doli (Part of The Ed's Team)
Creeper
Athena and her Knights
Poseidon and his Knights
The Toa
Hero Factory
Cluth Powers and his friends
The Bakugan Battle Brawlers
Team Core-Tech
Team Q4
Team Ultrarare
Team AL4 or Team Asteroid

The Miztyk Knights Team 2

Francis Barton (Hawkeye II)
Sharkboy
Lavagirl
Streaky The Supercat
The Aura Guardians
Night the Night Fury
Horton the Elephant
Zoroark and Zorua
Sonic the Hedgehog
Meta Knight
Inuyasha
Kagome
Miroku
Sango
Shippo
Kirara
Tiger of the Wind
Dorulumon
Zecora
Jiminy Cricket's Clan
Jiminy Cricket (Leader)
Pinocchio
Alice
Doc
Grumpy
Happy
Bashfull
Sleepy
Sneezy
Dopey
Mary Poppins
Professor Owl
Professor Ludwig Von Drake
Herman the Bootle Beetle
Dodger
Oliver
Olaf the Snowman
The Griffin Family
Orville the Albatross
Hiro Hamada
Baymax
Honey Lemon
Wasabi
Gogo Tomago
Fred
Barry B. Benson
Vanessa Bloome
Spider-Man's Adventure team
Spider-Man
Ace Bunny
Lexi Bunny
Danger Duck
Slam Tasmanian
Rev Runner
Tech E. Coyote
Zadavia (Boss)
Iron-Man
Thor
Hulk
Falcon
Wolverine
Silver Surfer
Reptil
Captain America
Mrs. Marvel
Tweetums (Possible Member)
Scarlet Witch (Future Member)
H.E.R.B.I.E. (Future Member)
Darkwing Duck
Larry-Boy (Future Member)
Bugs and Daffy's Adventure team
Bugs Bunny
Daffy Duck
Porky Pig
Lola Bunny
Sylvester
Tweety Bird
Foghorn Leghorn
Pepe Le Pew
Speedy Gonzales
Yakko, Wakko, and Dot Warner
The Tiny Toons (Buster Bunny, Babs Bunny, Plucky Duck, and Hamton J. Pig)
Ariel
Tom and Jerry
Wilbur the Albatross
Tasmanian Devil
Phineas
Ferb
Isabella
Candace
Hugo, Victor, and Laverne
Thomas O'Malley
Duchess
Basil of Baker Street
Dr. David Q. Dawson
Jose Carioca
Panchito Pistoles
Donald Duck
Slappy and Skippy Squirrel
Mickey Mouse
Goofy
Zecora
Woody Woodpecker
Mighty Mouse
Ren Hoek and Stimpy J. Stimpson
Sly Cooper's Adventure team
Sly Cooper
Bentley
Murray
Guru
Panda King
Dimitri
Carmelita Fox
Blinx the Cat
Red Riding Hood
Granny Puckett
Wolf W. Wolf
Twitchy Squirrel
Rango
Norbert Beaver
Daggett Beaver
The Te Xuan Ze Adventure Crew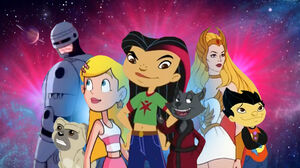 Sonic Storm Adventure team
Sonic the Hedgehog
Miles "Tails" Prower
Cosmo the Seedrian
Knuckles the Echidna
Shadow the Hedgehog
Gex
Takuya Kanbara
Koji Minamoto
J.P. Shibayama
Zoe Orimoto
Tommy Himi
Koichi Kimura
Bokomon
Neemon
Sergeant Tibbs
Chip
Yacker
Static Shock
Gear
Daffy Duck
Naruto Uzumaki
Hinata Hyuga
Sakura Haruno
Puffin, Speed and Jean-Bob
Grim, Billy and Mandy
Trixie
Team Rainbooms
Twilight Sparkle (EG) (Leader)
Applejack (EG)
Fluttershy (EG)
Rainbow Dash (EG)
Rarity (EG)
Pinkie Pie (EG)
Spike (EG)
Sunset Shimmer
Frankie Stein
Clawdeen Wolf
Draculaura
Danny Cat
Godzilla (MIB)
Grim
Gru
Jake Long
Kayley
Kyle Akers
Omi
Raimundo Pedrosa
Kimiko Tohomiko
Clay Bailey
Dojo
Ping-Pong

Mavis

Osmosis Jones

Drix

Skunk

Spider Man

Nova

Power Man

Iron Fist

White Tiger

Wander

Sylvia

Dudley Puppy

Kitty Katswell

Blythe Baxter
Bing Bong
Mordecai
Rigby
Sunny Flare
Sugarcoat
Sour Sweet
Lemon Zest
Indigo Zap
Star Butterfly
Billy
Mandy
The Multiverse Pioneers Club
Craig the Genie (Second in Command and Mascott)
Manolo (Leader) & Maria Sánchez (Second in Command)
Devon & Cornwall
Finley & Alice the China Girl 
Kevin, Stewart & Bob
Gandalf  
Zozi 
Slimer 
Team Go-Getters 
Achmed the Dead Terrorist
Jeff Barton, Bill Davis & Larry Thomas 
Legolas & Gimli 
Chewbacca
Owen Grady
B.I.N.G 
Dr. Emmet Brown
The Pink Panther
Grover & Cookie Monster
Dr. Alex Payne & Amanda Payne
Audrey Junior 
Tigra
CatDog
Ratchet & Clank
Gilda
Hannibal, Faceman, Murdock & B.A. Aka The A-Team
Doc Ock
Gizmo
Clover
Crystal & Amber
Teddy Roosevelt, Sacagawea, Dexter the Monkey, Jedediah, Octavius, Rexy, Attila the Hun, Amelia Earhart, General Custer, Gigantic Octopus
Sparky
Tiberius
Blue (Jurassic World)
Finn & Jake
Spyro, Stealth Elf, Eruptor, Jet-Vac & Pop Fizz
Batgirl (The Batman)
Newt Scamander
E.B.
K-2SO
Ashley
Charlie the Anteater
Sabine Wren
Freddie Facilier
Fezzik & Finigo
Power Girl
Tauriel
Wayne Campbell & Garth Algar
Alpha 5
Chase McCain
Vinny the Dog
Catherine and her Meowth
Spider-Gwen
Team Pokepals
Ace Bunny, Lexi Bunny, Danger Duck, Tech E. Coyote, Rev Runner and Slam Tasmanian
Pops
Scooby-Dum
Red & Yellow
Ethan Hunt
Jim, Toby, Claire & Blinky & AAARRRGGHH!!!
Yoshi
Mirag
Byph, Ganodi, Zatt, Petro, Katooni & Gungi (Star Wars: The Clone Wars)
The Thunderbolts Adventure Team
Connor Lacey's Adventures Team
Connor Lacey
The Kamen Rider Club Z
Van Solas (Kamen Rider ZI-O) (Leader)
Smolder (Kamen Rider Drake)
Ocellus (Kamen Rider Zect)
Silverstream (Kamen Rider Image)
Yona (Kamen Rider Senshi)
Gallus (Kamen Rider Cell)
Sandbar (Kamen Rider Dual)
Makini (Kamen Rider Revenant)
Geiz Myoukouin (Kamen Rider Geiz) (Second In command)
Sento Kiriyu (Kamen Rider Build)
Banjou Ryuga (Kamen Rider Cross-Z)
Emu Hojo (Kamen Rider Ex-Aid)
Takeru Tenkuji (Kamen Rider Ghost)
Shinnosuke Tomari & Mr.Belt (Kamen Rider Drive)
Go Shijima (Kamen Rider Mach)
Kouta Kazuraba (Kamen Rider Gaim)
Haruto Soma (Kamen Rider Wizard)
Gentaro Kisaragi (Kamen Rider Fourze)
Eiji Hino (Kamen Rider OOO)
Ahnk
Shotaro Hidari (kamen Rider Joker/Kamen Rider W) & Philip (Kamen Rider Cyclone/Kamen Rider W)
Tsukasa Kadoya (Kamen Rider Decade)
Takumi Inui (Kamen Rider Faiz)
Bev Gilturtle (Kamen Rider Zeta)
Quncy Goatee (Kamen Rider Sage)
Trip Hampston (Kamen Rider Izanagi)
Roxie McTerrier (Kamen Rider Blitz)
Jade Catkin (Kamen Rider Midnight) 
Edie Von Keet (Kamen Rider Queen)
Austin Goldpup (Kamen Rider Construct)
Savannah Cheetaby (also becomes Van's pet) (Kamen Rider Rageki)  
Tsukuyomi (Sue) (Kamen Rider Tsukuyomi) (Van's love interest)  
Takaharu (AkaNinger) 
Yakumo (AoNinger) 
Nagi (KiNinger) 
Shira (Fukka) (ShiroNinger) 
Kasumi (MomoNinger) 
Kinji (StarNinger)
Captain Marvelous (Gokai Red)   
Joe Gibken (Gokai Blue)   
Luka Millfy (Gokai Yellow)   
Don Dogoier (Gokai Green)   
Ahim De Famille (Gokai Pink)   
Gai Ikari (Gokai Silver)    
Cloud Strife (Kamen Rider Ragnarok)    
Woz (2019) (Kamen Rider Woz)    
Kou (Ryusoul Red)    
Melt (Ryusoul Blue)    
Asuna (Ryusoul Pink)    
Towa (Ryusoul Green)    
Ban (Banba) (Ryusoul Black)    
Tyramigo (Ty)    
Marinette Dupain-Cheng (Ladybug)    
Tikki    
Adrian Agrest (Cat-Noir)    
Plagg    
Kairi (Kai) Yano (Lupin Red)    
Tooma Yomachi (Lupin Blue)    
Umika Hayami (Lupin Yellow)    
Keiichiro Asaka (Patren 1gou)    
Sakuya Hikawa (Patren 2gou)    
Tsukasa (Casey) Myoujin (Patren 3gou)    
Noel Takao (Lupin X/ Patren X)    
Noctis Lucius Calum (Kamen Rider Prince)    
Aruto Hiden (Kamen Rider Zero-One)    
Isamu Fuwa (Kamen Rider vulcan)    
Yua Yaiba (Kamen Rider Valkyrie)    
Gai Amatsu (Kamen Rider Thouser)    
Dolly Dalmatian (Kamen Rider Amazon Beta)    
Dylan Dalmatian (Kamen Rider Apollo)    
Da vinci Dalmatian (Kamen Rider Medusa)
Delgado Dalmatian (Kamen Rider Exo)
Marshall (mighty Marshall)    
Rubble (mighty rubble)    
Chase (mighty chase)    
Rocky (mighty rocky)    
Zuma (mighty Zuma)    
Skye (mighty Skye)    
Everest (mighty Everest)    
Tracker (mighty tracker)    
Tuck (mighty tuck)    
Ella (mighty Ella)    
Rex (Mighty Rex)    
Ryder (Kamen Rider Logos)    
Oopsy Bear (Kamen Rider Jawz)    
Wonderheart Bear (Kamen Rider Eros)    
Pip (Kamen Rider Tempest)    
Freddy (Kamen Rider Solaris)    
Juru Atsuta (Kiramei Red)    
Shiguru Oshikiri (Kiramei Blue)    
Sayo Oharu (Kiramei Pink)    
Sena Hayami (Kiramei Green)    
Tametomo Imizuta (Kiramei Yellow)
Takamichi Crystalia (Kiramei Silver)
Fire
shovellow
Mach
Jetter
Helico
Dorijan
Wheeler
Mao Mao
Badgerclops
Adorabat (Kamen Rider Graham)
Whisper the wolf (Kamen Rider Wisp)
Tangle the lemur (Kamen Rider tangle)
Hiro (snooky wookums) (Kamen Rider crusade)   
Sweetie (paw patrol) (Kamen Rider Ascalon)   
Touma Kamiyama (Kamen Rider saber)  
Ren Akamichi (Kamen Rider Kenzan)
Tetsuo Daishinji (Kamen Rider Slash)
Ryo Ogami (Kamen Rider Buster)
Rintato Shindo (kamen Rider blades)
Kento Fukamiya (Kamen Rider Espada)
Yuri (Kamen Rider Saiko)
Freddy Lupin (Kamen Rider Vorpal)
Batty (Kamen Rider Oathkeeper)
Belle (Kamen Rider Galatine)
Chris the Lion's Adventures Team
Community content is available under
CC-BY-SA
unless otherwise noted.