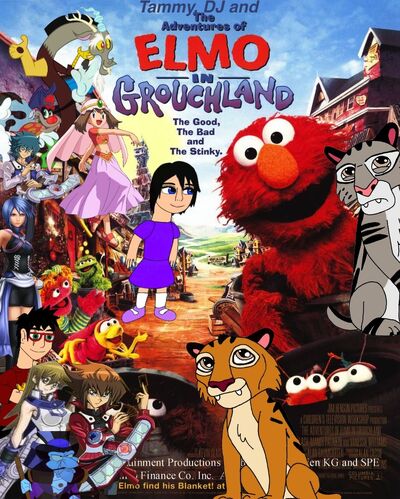 Tammy, DJ and The Adventures of Elmo in Grouchland is an upcoming crossover to be made by Ren the God of Humor and tigerman531.
Plot:
When Elmo's blanket and a gift that was made for Xion ends up in Oscar's trash can, Elmo, Tammy and DJ must travel to Grouchland to get them back. But they face a greedy man named Huxley who steals anything he can, including Elmo's blanket and the cubs' gift to Xion. When Xion, Jeffrey, Jaden and the residents of Sesame Street notice Elmo, Tammy and DJ's absence, they go to Grochland to find them. Will Elmo get his blanket back? Can the cubs get their gift for Xion back?
Trivia
Discord will guest star in this.
This is the first Adventure where Tammy and DJ are the protagonists.
Xion and Tammy will sing "Somewhere Out There" in this adventure.
Songs
Together Forever - cast of Sesame Street
Welcome to Grouchland - Grouches
Take the First Step - Stuckweed
Make it Mine - Huxley 
I See a Kingdom - Queen of Trash
Somewhere Out There - Tammy and Xion
Through Your Eyes (from Bambi 2) - End Credits Song
Scenes
Community content is available under
CC-BY-SA
unless otherwise noted.