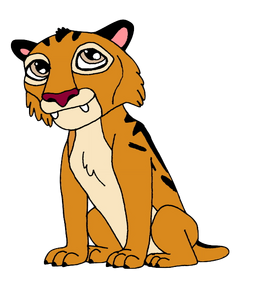 You're my hero, big sister. -Tammy to Xion.
Tammy is the daughter of Diego and Shira.
She looks like her father. She is an all around sweetheart, and is always looking to have fun with everyone.
Likes
Xion
Her brother DJ
Her mom Shira and her dad Diego
Her whole family
Being kind and helpful to others
Vanilla sweets
Meat
Sweetie Belle (her best friend)
Sandwiches (especially golden egg-which's)
Princess Cadence
Tigress
The color purple
Playing with Lily, Flurry Heart and Bruce
Black Widow
DJ's girlfriend Snowflake
Boo-Berry cereal
The Macarena
Treasure hunting with DJ and Snowflake
Dislikes
Gallery
Trivia
She and her twin brother Diego Jr. will be born in the chronicles episode Security for Sabertooths Part 1 and Security for Sabertooths Part 2.
They look up to Xion as a older sister. Jeffrey is also like a second father to them.
Tammy views Xion as her idol.
Tammy's favorite color is purple.
She and DJ never argue, but they do have their disagreements.
Tammy's dream is to someday be a heroic duo with Xion. This is accomplished in Jeffrey, Jaden & Friends join Men in Black.
In Power Paws, Tammy and DJ will get super powers. Her powers will be ice breath, heat vision, super strength and a super roar. She will soon gain other powers like invisibility.
Tammy becomes close friends with Sweetie Belle.
Tammy and DJ will be the main protagonists of Tammy, DJ and The Adventures of Elmo in Grouchland.
Tammy has a strong dislike for chocolate due to her being allergic to it.
Tammy forms a big sister bond with Bruce Dragonheart.
Tammy's favorite snack are sandwiches.
Tammy will later receive a scarf made from Xion's old dress as a gift and a pair of Black Widow Bite bracelets to honor Black Widow.
Community content is available under
CC-BY-SA
unless otherwise noted.