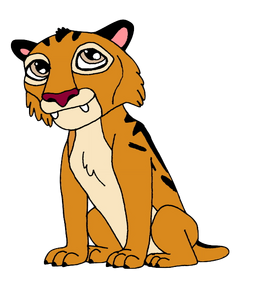 You're my hero, big sister. -Tammy to Xion.
Tammy is the daughter of Diego and Shira.
She looks like her father. She is an all around sweetheart, and is always looking to have fun with everyone.
Likes
Xion
Her brother DJ
Her mom Shira and her dad Diego
Her whole family
Being kind and helpful to others
Vanilla sweets
Meat
Sweetie Belle (her best friend)
Sandwiches (especially golden egg-which's)
Princess Cadence
Tigress
The color purple
Playing with Lily, Flurry Heart and Bruce
Black Widow
DJ's girlfriend Snowflake
Boo-Berry cereal
The Macarena
Treasure hunting with DJ and Snowflake
Dislikes
Gallery
Trivia
Community content is available under
CC-BY-SA
unless otherwise noted.