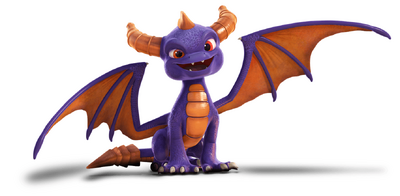 "All Fired Up!" —Spyro's official catchphrase

Spyro the dragon (voiced by Justin Long) is the main character of the Spyro the Dragon, The Legend of Spyro and Skylanders video game series. His friends are Sparx the dragonfly and Cynder the female black dragon. He's primarlly of the Magic ellement in the Skylanders series.
Trivia
Spyro, Cynder and Sparx will meet Jeffrey and his friends in Jeffrey & Friends meet The Hobbit (Animated).
Spyro will reunite with Jeffrey and his team in Jeffrey, Spongbob, Spyro, Dave Felis & Friends meet Flubber and Jeffrey, Spongebob, Spyro & Friends join Underfist.
Spyro and the rest of Team Spyro will join Craig and his team in Craig & Friends attend Skylanders Academy, and will debut in Craig & Friends Adventures of Mirror,Mirror.
Gallery
Community content is available under
CC-BY-SA
unless otherwise noted.