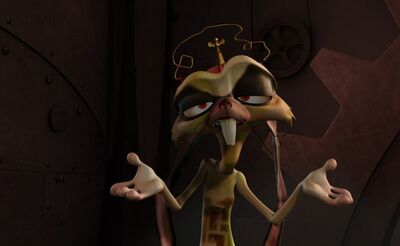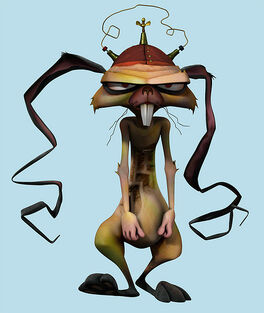 "Do NOT yell at me." -Scamper after Igor tells him to pull the switch.B
Scamper (voiced by Steve Buscemi) is one of Igor's invention and a member of Jaden's Adventure team. He is a re-animated immortal rabbit with a death wish. Even though he's sarcastic and a bit negative at times, he's still a good friend and very loyal to Jaden. He first meet Jaden in Jaden meets Igor, who helps him and Igor free the Kingdom of Malaria from a long-lasting storm. He, along with Brain, decide to join Jaden and his friends after that.
Likes
Cards the blow up in your face
Xion
Judy Hopps (his sister)
Dislikes
Being immortal (formerly)
Brain's stupidity
Losing people close to him to death
Mr. Director
Baloney the Dinosaur
Trivia
Scamper and Brain will debut in Jaden goes to Madagascar.
Scamper and Brain will meet Jeffrey and his friends in Jeffrey & Friends meet Igor.

Scamper's best friend is Blaze the cat because they share the same attitude, and find Brain to be annoying. They will be falsely accused of being a couple during the Adventure series.
In Jeffrey, Jaden & Friends' Storm Adventures of Foster's Home for Imaginary Friends: Destination Imagination, Scamper will joke about Patch's crush on Collette, which will pretty much annoy Patch.
Xion will be one of the few characters he won't be sarcastic towards. In fact, he'll actually admit that she's "kinda cute".
The only times Scamper ever cries are when a character dies. Such as Latios, Weebo, Ray the Firefly, and Sandy.
In Jeffrey, Jaden & Friends meet The Brave Little Toaster, Scamper will fall into a coma after getting painfully electrocuted. So Xion takes care of him until he wakes up.
Scamper works as one of the clerks at Jeffrey's Pizza Place.
In Jeffrey, Jaden & Friends' Storm Adventures of Zootopia, Scamper reunites with his sister Judy Hopps.