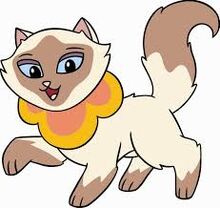 Sagwa (Voiced by Holly Gauthier-Frankel) is the main heroine of the show of the same name. Sagwa is a Chinese Siamese cat and is the daughter of Baba Wim Bao Miao and Mama Shao Fun Miao, and granddaughter of Nai-Nai Miao and Yeh-Yeh Miao. She's also the middle sister of Sheegwa Miao and Dongwa Miao. She's also a friend to a bat name Fu-Fu.
History:
Sagwa was born in the Year of the Dog and was originally pure white, until she fell into an inkpot which covers for face, paws and tail.
Personality:
Sagwa is kind, curious, quick thinking, creative and sometime a little bossy. She's also very talented in calligraphy, an art of producing decorative handwriting, and have the best artistic skills in the family.
Trivia:
Sagwa means 'Melon' or 'Silly Melon' in Chinese.
Sagwa, along with her family will meet Jaden and Jeffrey sometime in the future.
Sagwa does a 'What about you' Segment along with Fifi in her show.
Community content is available under
CC-BY-SA
unless otherwise noted.