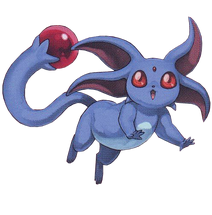 Ruby Carbuncle
is a Crystal Beast Monster, and is
Jesse
's Spirit Partner. When this card is Special Summoned: You can Special Summon as many Crystal Beast cards as possible from your Spell & Trap Card Zone. If this face-up card is destroyed while it is in a Monster Card Zone, you can place it face-up in your Spell & Trap Card Zone as a Continuous Spell Card, instead of the Graveyard.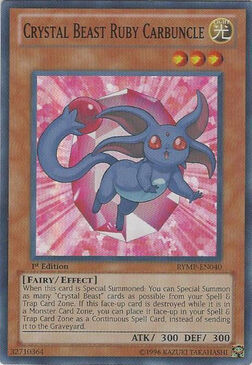 Ruby Carbuncle seems to get into constant fights with Winged Kuriboh, although it's not clear as to why.
Trivia
Ruby will debut along with Jesse in Jaden learns How To Train Your Dragon.
Jeffrey and Xion are able to see Ruby too. Xion also has a Ruby Carbuncle as her Duel Spirit.
Courtney is able to see Ruby too.
Community content is available under
CC-BY-SA
unless otherwise noted.