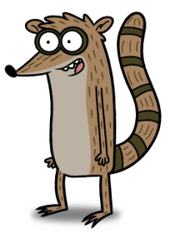 Rigby 
(voiced by William Salyers) is a  raccoon who works as a groundskeeper at The Park. He has been best friends with Mordecai since childhood and slacks off even more than Mordecai does. Rigby is hyperactive, immature, and extremely mischievous, which sometimes puts him at odds with Mordecai. He mostly lives for simply having a good time and relaxing, which he sometimes achieves through selfish acts like lying or cheating.
He has a bad habit of getting himself and others in trouble, often causing many of the chaotic and surreal problems that arise in The Park. Nevertheless, he is shown to be a good person deep down and sticks closely to his friends. Like Mordecai, Rigby loves to play video games, but he is the worse of the two. He is also shown to be the weakest of The Park workers, although he has surprised them on a few occasions. 
Trivia.
Rigby is allergic to eggs.
Community content is available under
CC-BY-SA
unless otherwise noted.