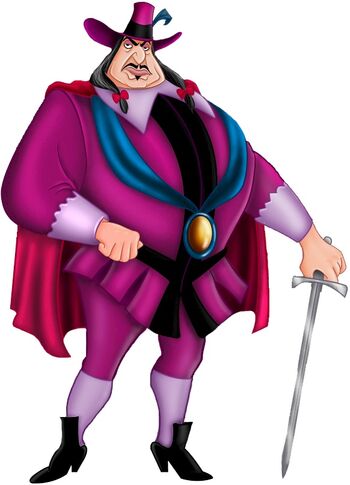 Governor Ratcliffe (voiced by the late David Ogden Stiers) is the main antagonist of Jaden meets Pocahontas. He was the leader of the settlers, who went to the "new world" (Virginia) in search of gold. When there was none in sight, he immediately accused the Natives (whom he was very stereotypical towards) that they had the gold, and planned to attack them for it. Before a war could start, Pocahontas, Jaden and his friends stopped it from happening. But Ratcliffe still wanted to fight. But before Ratcliffe could shoot the Indian leader, John Smith got in the way, and took the bullet instead. The settlers, in response, turned against Ratcliffe, resulting in his defeat.
Gallery
Trivia
Ratcliffe will be one of many villains to appear in Jaden's Adventures of Fantasmic!
Ratcliffe will become Jeffrey's enemy in Jeffrey & Friends meet Pocahontas.
Ratcliffe will become Sonic's enemy in Sonic meets Pocahontas.
Ratcliffe is one of Mother Gothel's sons, which makes him a brother of Rapunzel, but unlike Ralphie and Kronk, Ratcliffe, is like the many sons of Gothel, dark and heartless.
The Rogues hate him because he's a politician and bureaucrat.