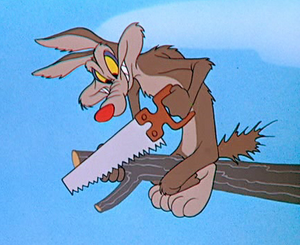 Ralph Wolf is one of the two titular protagonists from the Ralph Wolf and Sam Sheepdog shorts. Ralph is actually an employee whose job is to steal sheep, while Sam's job is to watch over the sheep. Ralph and Sam are very good friends when outside of their jobs, only antagonizing each other during their workday. While on their job, Ralph tries various plans to steal the sheep, only for Sam to thwart him with minimal effort and severely punish him. As their workday ends, they return to their status quo, walking home together only start all over again the next day.
Trivia
Ralph Wolf bears a striking resemblance with Wile E. Coyote, as they have virtually the same design. They are differentiated by Ralph's red nose instead of Coyote's black one, usually white eyes and fangs. Though both play similar roles, Ralph is merely doing his job, cutting off his chase at the end of his workday, unlike Coyote who has a more fanatical drive.
Community content is available under
CC-BY-SA
unless otherwise noted.