Professor Zundapp (or Professor Z) (voiced by Thomas Kretschmann) is the secondary antagonist in Jaden's Adventures of Cars 2. He is a dangerous weapon designer, and another Lemon (car that doesn't work well). He joined a bunch of other Lemon cars to get the respect that he wanted.
His boss (Sir
Miles Axelrod
) wanted to make an alternative fuel look bad so that everyone would go back to using gas, which the Lemons owned. However,
Jaden
and Mater foiled their plans.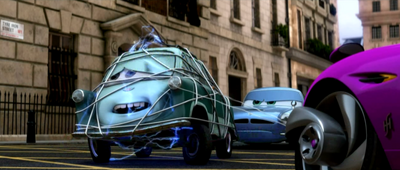 Trivia:
Even though he's not the true villain of the movie, Jaden considers Zundapp more of threat to him than his boss.
Professor Zundapp will become Jeffrey's enemy in Jeffrey & Friends' Storm Adventures of Cars 2.
Professor Zundapp will return for revenge in the Jeffrey, Jaden & Friends meet Indiana Jones saga.
Professor Zundapp will return in Jeffrey, Jaden, Hiccup & Friends meet Valiant.
Community content is available under
CC-BY-SA
unless otherwise noted.