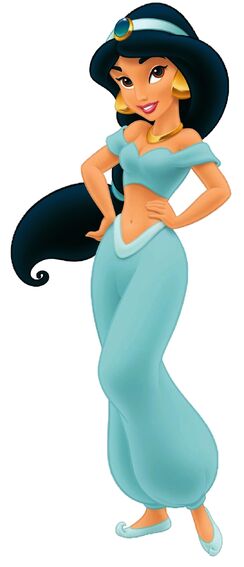 Princess Jasmine (voiced by Linda Larkin) is the beautiful and free-spirited Princess of Agrabah. She is to be married to a prince before her birthday. In Jaden meets Aladdin, Jaden agrees that being forced to marry is wrong, and that you should decide for yourself. In the end, she marries a poor man named Aladdin, who loves her not only for her beauty but for who she is.
Gallery
Trivia
Jaden will see her again in Jaden's Adventures of The Return of Jafar.
Jaden will also be seeing her wedding with Aladdin in Jaden's Adventures of Aladdin and the King of Thieves.
Jasmine will meet Jeffrey and his pals in Jeffrey & Friends meet Aladdin. She comes to accept Jeffrey's dragon form.
Jasmine is Lily's favorite Disney Princess.
Jasmine will meet Twilight and the Rainbooms in ​Twilight meets Aladdin, ​and in the end, she'll understand and accepts Twilight's pony princess form from Equestria.
Community content is available under
CC-BY-SA
unless otherwise noted.