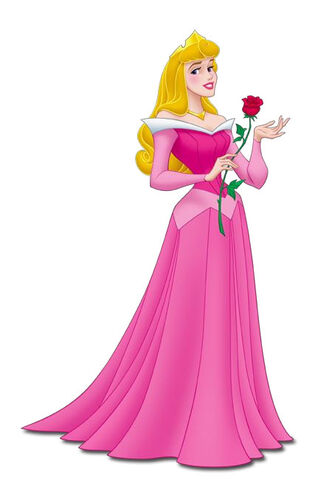 Princess Aurora (currently voiced by Jennifer Hale) is the title character of Jaden's meets Sleeping Beauty. When the evil Maleficent said that on her 16th birthday, she would touch the spindle of a spinning wheel, and would be placed in deep sleep, the Three Good Fairies and Jaden's Adventure Team hid her from Maleficent and raised her as a peasant. On her 16th birthday, while the Good Fairies and Jaden's Team were planning a surprise for her, she met a stranger (unaware that he was Prince Phillip), and they both fell in love. But when the Fairies and Jaden's Team reveal her to be a princess and say she has to marry Phillip, Aurora was heartbroken thinking that she would see the stranger again. And to make matters worse, Maleficent's prophecy came true, and Aurora touched the spindle of a spinning wheel and was in the deep sleep. She was awoken with true love's kiss from Phillip.
Gallery
Trivia
Princess Aurora will meet Jeffrey and his team in Jeffrey & Friends' Adventures of Sleeping Beauty.
Princess Aurora is Darkblade's cousin.
In the 2015 movie Descendants, Aurora & Phillip will have a Daughter named Audrey (portrayed by Sarah Jeffery)
Community content is available under
CC-BY-SA
unless otherwise noted.