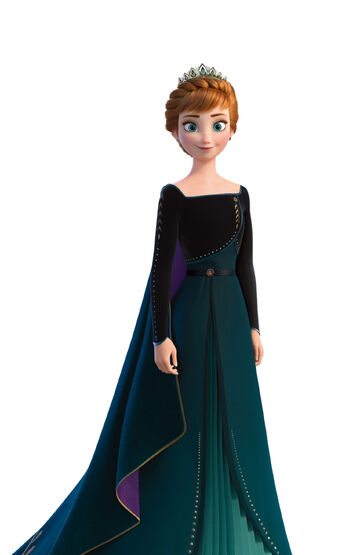 Princess Anna (voiced by Kristen Bell) is the main protagonist of Disney's Frozen. She is the younger sister of Elsa.
When they were kids, Anna would play with her sister Elsa and her magic powers of to control ice and snow. But one night, Elsa accidentally hit Anna on the head with her powers and left a white streak on her hair. Desperate to save her, their mom and dad took Anna to Pabbie who changed her memories so that Anna wouldn't know about Elsa's powers. After being warned that Elsa must control her powers, Elsa isolated herself from Anna in order to keep her safe. Ever since then, Anna felt alone without Elsa coming out to provide her company.
Trivia
Princess Anna will meet Jeffrey, Jaden and the team in Jeffrey, Jaden & Friends get Frozen.
Jeffrey is like a big brother figure to Elsa and Anna.
It's rumored that Anna could be a cousin to Rapunzel.
Hiccup will meet Anna in Hiccup Gets Frozen
Sometimes, Anna and Elsa babysit Lily Yuki and Bruce Dragonheart while the Justice Guardians are on dangerous adventures. Anna also becomes an aunt figure to Lily and Bruce.
Anna will meet Jeffrey, Jaden and Hiccup again in Jeffrey, Jaden, Hiccup & Friends get Frozen Fever.
Gallery