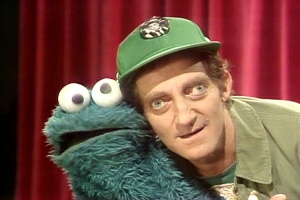 Pooh, Jaden, Jeffrey & Friends' Storm Adventures of The Muppet Show Episode 518 
is an upcoming Pooh's Adventures TV series episode by Ren the God of Humor and Tigerman531. It will appear on YouTube in late future.
Plot:
Tonight's show pays tribute to the 1001 Arabian Night tales with guest star Marty Feldman playing the role of Scheherazade, telling tales to an evil Caliph. Tales including Sinbad the Sailor, Aladdin, and Ali Baba and the Forty Thieves.
Trivia
Jaden will be hosting the show in this episode.
Aladdin, Jasmine and Genie will guest star in this episode.
Xion dresses as an Arabian Princess in this episode.
Scenes
Fozzie: Alright! One more time! Open Sesame!!!
(The cave door opens.... and Cookie Monster, Bert, Ernie, Count, Grover and two other characters from Sesame Street come out!!!)
Community content is available under
CC-BY-SA
unless otherwise noted.