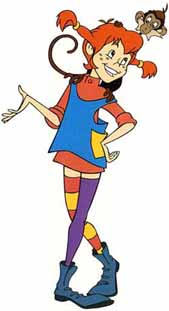 Pippilotta Delicatessa "Pippi" Longstocking
(voiced by Melissa Altro) is an unconventional, beautiful, cute, rebellious, assertive and extraordinarily strong young Swedish girl. She lives alone with her monkey, Mr. Neilson, and a horse named Alfonso at Villa Villakulla, a house she inherits from her father who is lost at sea. Pippi is determined in her belief that her father is still alive, has been made a cannibal king, and will return to his old house to look for her.
She is financially independent, living off of a sackful of gold pieces, and spends much of her time embarking on adventures and getting into trouble. Tommy and Annika Settergren, her friends and next-door neighbors, often accompany her on her adventures. Pippi frequently mocks and dupes the adults she encounters, reserving her worst behavior for the most pompous and condescending of adults.
Trivia
Pippi's superhuman physical strength enables her to, for example, prevent a car from moving off by lifting the back.
Community content is available under
CC-BY-SA
unless otherwise noted.