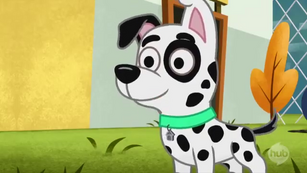 Patches (Voiced by Jessica DiCicco) is a dalmatian puppy in the 2010 TV series Pound Puppies. Patches is an eager pup, always looking for ways to help the Pound Puppies' cause. He is often the ringleader amongst the Club, usually setting up what their mission is, getting the info or what to do next. Idolizing the Pound Puppies, Patches, after being prevented from joining them due to being too young, joined with Rebound and Cupcake in forming a new puppy-placing group, with their first mission being to find himself an owner. After a series of misadventures, Patches is finally adopted by a little girl named Gina, but he pledges to remain a member of the "Super Secret Puppy Club."
Trivia:
In the Thunderbolts Adventure Series, Patches is Eclipse's boyfriend.
Gallery:
Community content is available under
CC-BY-SA
unless otherwise noted.