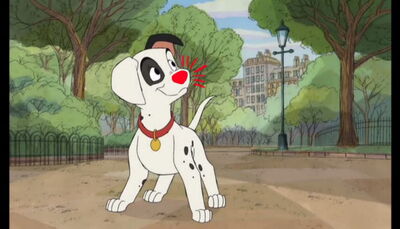 Patch the Red Nosed Dalmatian Puppy is a upcoming spoof of the Rankin Bass version of Rudolph the Red Nosed Reindeer to be made by tigerman531 and co-directed by Ren the God of Humor and brermeerkat.
(Currently doing cast changes.)
Cast
Patch as Rudolph
Collette as Clarice
Thorax as Hermie
The Lorax as Yukon Cornelius
Pongo as Donner
Perdita as Ms. Donner
Gru (Despicable Me) as Santa Claus
Lucy (Despicable Me 2) as Ms. Claus
Vitaly the Tiger as Head Elf
Colonel (101 Dalmatians) as Comet
Scamp as Fireball
Aslan (The Chronicle of Narnia) as King Moonracer
Nails the Spider as Charlie in the Box
Fluttershy as Dolly for Sue
Horton the Elephant as Spotted Elephant
Mater (Cars) as The Train with Square Wheels
Snipes (Rock-a-Doodle) as the Bird Fish
Rango as The Cowboy who rides a Ostrich
Crabby the Boat (Cars 2) as The Boat who can't stay afloat
Bigfoot (A Goofy Movie) as The Abominable Snowmonster of the North
Napoleon (The Aristocats) as Clarice's father
Trusty (with Jock as a extra) (Lady & The Tramp) as Sam the Snowman
Trivia
Community content is available under
CC-BY-SA
unless otherwise noted.