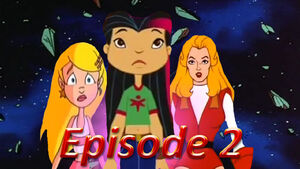 Out of Charm's Way was Published on Jan 4, 2016 to YouTube. it was the second episode in The NEW Adventures of Juniper Lee series.
Plot
Juniper agrees to help She-Ra and thus invites her to move in with her. Unbeknownst to her, fellow classmate Sabrina Spellman is gathering information about her knowing that June is also a part of the magical community. after a few feats of strength Sabrina works up the courage to confront June, knowing full well June might mistake her for an evil witch and try to kill her. luckily everything worked out and Sabrina ended up joining the team, lending her magic skills to aid June and her friends.
Section heading
"Out of Charm's Way" was also the name of a Juniper Lee video game on Cartoon Network.Com
this was the first episode to Sabrina Spellman who would later go on to become one of the most pivotal character in the series.
This was also the first episode to use She-Ra's alter ego Adora.
Ray Ray makes a reference to Juniper Lee's Adventures of the Lion of OZ
Community content is available under
CC-BY-SA
unless otherwise noted.