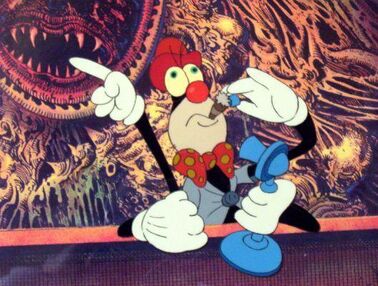 "That felt smashingly good! Smashingly!" -Nails.
Nails The Spider (voiced by Charles Alder) is an anthropomorphic spider who serves as Frank Harris' partner. In Jaden in Cool World, he and Berkeley Beetle try to stop Holli Would from leaving Cool World, but they get "penned" (sucked into a pen). But they both escape in the end, and Nails asks to join Jaden's team, and he accepts. He is the most loyal member of the team.
Trivia
Nails will meet Jeffrey and his team in Jeffrey & Friends enter Cool World. Although Jeffrey is scared of spiders, Nails will be the one spider that he isn't afraid of.
Upon joining the team, Nails quits smoking for good.
Nails' self-proclaimed and unofficial duty for the group is to prevent anyone from harming Jaden's and Alexis' relationship.
Nails is allergic to clouds.
Nails has a deep feeling of jealousy for Spider-Man.
Nails also acts as a protective guardian to Xion and defends her from bullies like Cleo and her posse. He shares this duty with Courage.
Nails is a old friend of Sam and Max.
Another running gag is when Nails keeps drinking something bad, he keeps running to the bathroom.