m

(Protected "Nails the Spider" (‎[edit=sysop] (indefinite) ‎[move=sysop] (indefinite)))

 

(39 intermediate revisions by one other user not shown)
Line 1:
Line 1:
 

[[File:Cool-world-nails.jpg|thumb|378px|Nails the Spider]]''"That felt smashingly good! Smashingly!" ''-Nails.

 

[[File:Cool-world-nails.jpg|thumb|378px|Nails the Spider]]''"That felt smashingly good! Smashingly!" ''-Nails.

 
 
−

'''Nails The Spider''' (voiced by Charles Alder) is <span style="color:rgb(0,0,0);font-family:sans-serif;line-height:19px;">an anthropomorphic spider who serves as Frank Harris' partner. In ''[[Jaden goes to Cool World]]'', he and [[Berkeley Beetles|Berkeley Beetle]] try to stop [[Holli Would]] from leaving Cool World, but they get "penned" (sucked into a pen). But they both escape in the end. And Nails asks to join [[Jaden Yuki|Jaden]]'s team, and he accepts. He is the most loyal member of the team.</span>

+

'''Nails The Spider''' (voiced by Charles Alder) is <span style="color:rgb(0,0,0);font-family:sans-serif;line-height:19px;">an anthropomorphic spider who serves as Frank Harris' partner. In ''[[Jaden Cool World]]'', he and [[Berkeley Beetles|Berkeley Beetle]] try to stop [[Holli Would]] from leaving Cool World, but they get "penned" (sucked into a pen). But they both escape in the end Nails asks to join [[Jaden Yuki|Jaden]]'s team, and he accepts. He is the most loyal member of the team.</span>

 
+
 
+

==<span style="color:rgb(0,0,0);font-family:sans-serif;line-height:19px;">Gallery</span>==

 
+
 
+

<span style="color:rgb(0,0,0);font-family:sans-serif;line-height:19px;"><gallery position="center">

 
+

Mlp resource elements of harmony by grievousfan-d6eiln8 (5).png

 
+

Loyal Nails.png

 
+

</gallery></span>

 

==<span style="color:rgb(0,0,0);font-family:sans-serif;line-height:19px;">Trivia</span>==

 

==<span style="color:rgb(0,0,0);font-family:sans-serif;line-height:19px;">Trivia</span>==

 

*A running gag in the series is Nails getting trapped within fountain pens by villains.

 

*A running gag in the series is Nails getting trapped within fountain pens by villains.

 

*Nails will meet Jeffrey and his team in ''Jeffrey & Friends enter Cool World''. Although Jeffrey is scared of spiders, Nails will be the one spider that he isn't afraid of.

 

*Nails will meet Jeffrey and his team in ''Jeffrey & Friends enter Cool World''. Although Jeffrey is scared of spiders, Nails will be the one spider that he isn't afraid of.

 
+

*Upon joining the team, Nails quits smoking for good.

 

*Nails' self-proclaimed and unofficial duty for the group is to prevent anyone from harming Jaden's and [[Alexis Rhodes|Alexis]]' relationship.

 

*Nails' self-proclaimed and unofficial duty for the group is to prevent anyone from harming Jaden's and [[Alexis Rhodes|Alexis]]' relationship.

 

*Nails is allergic to clouds.

 

*Nails is allergic to clouds.

 
+

*Nails has a deep feeling of jealousy for [[Spider Man]]. However, both of them will settle their rivalry for good in ''Jeffrey, Jaden, Hiccup & Friends' Storm Adventures of Spider-Man: Homecoming''.

−

*Nails also acts as a protective guardian to [[Xion]] and defends her from bullies like Cleo and her posse.

+

*Nails also acts as a protective guardian to [[Xion]] and defends her from bullies like Cleo and her posse.

 

*Nails is a old friend of [[Sam & Max|Sam and Max]].

 

*Nails is a old friend of [[Sam & Max|Sam and Max]].

 
+

* Another running gag is when Nails keeps drinking something bad, he keeps running to the bathroom.

 

[[Category:Characters]]

 

[[Category:Characters]]

⚫
 
⚫
 
⚫
 
⚫
 
 

[[Category:Non-Disney characters]]

 

[[Category:Non-Disney characters]]

 
+

[[Category:Males]]

 

[[Category:Animal characters]]

 

[[Category:Animal characters]]

 
⚫
 
⚫
 
⚫
 
⚫
 

[[Category:Characters for Jeffrey, Jaden & Friends' Storm Adventures]]

 

[[Category:Characters for Jeffrey, Jaden & Friends' Storm Adventures]]

 

[[Category:Hiccup's allies]]

 

[[Category:Hiccup's allies]]

Line 26:
Line 37:
 

[[Category:Uncles]]

 

[[Category:Uncles]]

 

[[Category:Comic Relief]]

 

[[Category:Comic Relief]]

 
+

[[Category:Elements of Harmony: Loyalty]]

 
+

[[Category:Xion's Ohana Members]]

 
+

[[Category:Bambi and Rapunzel's Ohana Allies]]

 
+

[[Category:The Ohana Alliance]]

 
+

[[Category:Spider-Man's Allies]]

 
+

[[Category:Guardians of the Galaxy]]

 
+

[[Category:ToonTown Police Department]]

 
+

[[Category:Toons]]

 
+

[[Category:Twilight's Adventures allies]]

 
+

[[Category:S.H.I.E.L.D. Agents]]

 
+

[[Category:Lucario's Adventures Allies]]

 
+

[[Category:American characters]]

 
+

[[Category:Juniper Lee's Adventures allies]]

 
+

[[Category:Lily's family]]

 
+

[[Category:Courtney's allies]]

 
+

[[Category:Spider's]]

 
+

[[Category:Members of the Resistance]]

 
+

[[Category:Jasmine & Nails]]

 
+

[[Category:Sunset's allies]]

 
+

[[Category:Crystal Gems]]
---
Latest revision as of 15:05, 19 June 2020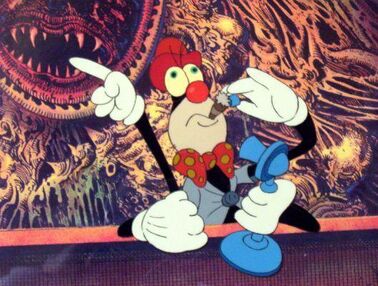 "That felt smashingly good! Smashingly!" -Nails.
Nails The Spider (voiced by Charles Alder) is an anthropomorphic spider who serves as Frank Harris' partner. In Jaden in Cool World, he and Berkeley Beetle try to stop Holli Would from leaving Cool World, but they get "penned" (sucked into a pen). But they both escape in the end, and Nails asks to join Jaden's team, and he accepts. He is the most loyal member of the team.
Gallery
Trivia
A running gag in the series is Nails getting trapped within fountain pens by villains.
Nails will meet Jeffrey and his team in Jeffrey & Friends enter Cool World. Although Jeffrey is scared of spiders, Nails will be the one spider that he isn't afraid of.
Upon joining the team, Nails quits smoking for good.
Nails' self-proclaimed and unofficial duty for the group is to prevent anyone from harming Jaden's and Alexis' relationship.
Nails is allergic to clouds.
Nails has a deep feeling of jealousy for Spider Man. However, both of them will settle their rivalry for good in Jeffrey, Jaden, Hiccup & Friends' Storm Adventures of Spider-Man: Homecoming.
Nails also acts as a protective guardian to Xion and defends her from bullies like Cleo and her posse. He shares this duty with Courage.
Nails is a old friend of Sam and Max.
Another running gag is when Nails keeps drinking something bad, he keeps running to the bathroom.
Community content is available under
CC-BY-SA
unless otherwise noted.