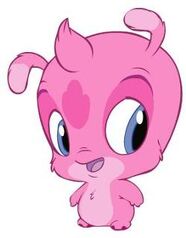 Mr. Stenchy (voiced by Frank Welker) is Experiment 254 of Dr. Jumba's Experiments.
Primary Function
Mr. Stenchy appears disarmingly cute to everyone except other experiments, but then emits an extremely noxious, foul odor 48 hours after he is activated that makes 40 square miles of an area uninhabitable for decades.
Trivia
His one true place is on Plorgonar (Pleakley's home planet), where his stench is considered a rare and valuable perfume.
Stitch and Reuben were clearly unmoved by Mr. Stenchy's cuteness, possibly indicating that other experiments are immune to Mr. Stenchy's charm. Tammy is also immune to Mr. Stenchy's cuteness due to her cuteness.
In Leroy & Stitch, Mr. Stenchy did not produce his stink, suggesting it wears off after a while or he has learned how to control it.
In the Stitch! anime, Mr. Stenchy has a wife named Mrs. Sickly.
Courtney is also immune to his cuteness just like Tammy.
Community content is available under
CC-BY-SA
unless otherwise noted.