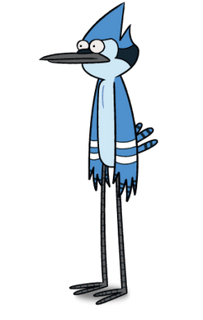 Mordecai
 (voiced by J. G. Quintel) is a  blue jay who works as a groundskeeper at The Park. He has been best friends with Rigby ever since childhood, and together they are very lazy and constantly slack off at their jobs there. Mordecai is more conscientious, mature, and moral about his actions than Rigby is, which sometimes leads to his opposing Rigby when he is the cause of some kind of chaotic problem.
However, Mordecai usually sides with his friend and the two generally stick together through their adventures. Like Rigby, Mordecai loves to play video games, but he is the better of the two. He can sometimes become caught up in his emotions, often letting them get the better of him. However, he is usually quick to apologize to others if he has hurt them and occasionally takes the lead in fixing a situation.
Trivia.
Community content is available under
CC-BY-SA
unless otherwise noted.