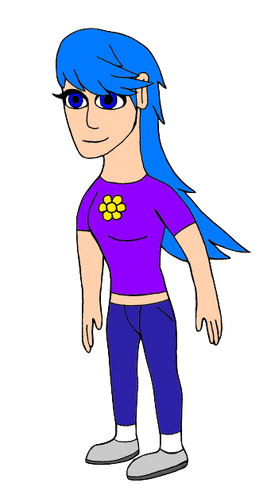 Mitsuki is a main character of the Jeffrey & Friends' Adventures series and a founding member of the Jeffrey & Friends' Adventures team. She and Nathan are second-in-command to Jeffrey in the team.
She is a young and beautiful 22 (currently 24) year old Japanese teenage girl. She was born in Japan, but later moved with her family to America when she was a baby. On her first day there, she met Jeffrey and Nathan. They became friends ever since. Mitsuki is a vegetarian, but she doesn't hate meat.
She acts as one of the voices of reason to the team. She's a best friend to Jeffrey, Pikachu, Meowth and Nathan.
Mitsuki is kind, gentle, mother-like, friendly, brave and generous.
After Xion is adopted by Jeffrey, she becomes a mother-figure to her.
Keyblade(s)
Divine Rose
Rainbow Path (Given to her from Jesse)
Mitsuki's Pokemon
Blastoise (Male)
Beautifly (Female)
Kangaskhan (Female)
Gardevoir (Female)
Ditto (Shiny)
Duel monster cards
Monsters:
Fire Princess
Guardian Elma
Sanga of the Thunder
Kazejin
Suijin
Gate Guardian
Skull Guardian
The Forgiven Maiden
Marie the Fallen One
St. Joan
Spells:
Butterfly Dagger - Elma
Novox's Prayer
Lightning Blade
Polymerzation
Silver Bow and Arrow
Traps
Summons
Trivia
Mitsuki, along with Jeffrey, Pikachu, Meowth and Nathan, will start their adventures in Jeffrey & Friends meet Snow White and the Seven Dwarfs.
Mitsuki will meet Jaden and his team in Jeffrey, Jaden & Friends meet TRON. She and Alexis will share a sister-like friendship. She'll also have a sister-like friendship with Astrid and Aqua.
Mitsuki wields the Divine Rose Keyblade.
Mitsuki falls in love with Alexis' brother, Atticus. When asked what she sees in him, Mitsuki simply says that he "makes her laugh". Atticus might eventually propose to her.
Mitsuki has a job in a Toontown Flower shop.
Mistuki has a little brother named Anthony.
Community content is available under
CC-BY-SA
unless otherwise noted.