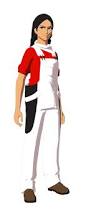 Mila (Voiced by Julie Delaurenti) is one of the main characters in the show, Skyland.She is Lena and Mahad's mother who raise them in Babylonia until she use her Seijin powers to take out a couple of Sphere robots.
She sacrifice herself to safe her children from being captured by the Sphere by sending them to a place far beyond Sphere control. She was son captured by her former friend, Oslo, commander of the Sphere. Oslo try to take Mila to get side due to an old prophecy: 'He will unite Earth with the Lady of Light.' At first, Oslo mean he and Mila, Oslo feel in love with her, before Marcus Ferrell, Lena and Mahad's father and Mila's husband, 'Stole' her his him. When in reality, it was her children Lena and Mahad.
She was taken to Kharzem Fortress, a hidden prison where Olso try to break her, but her will remain strong.
Even though she was imprisoned, Mila will always help her two children in spirit.
Trivia
Community content is available under
CC-BY-SA
unless otherwise noted.