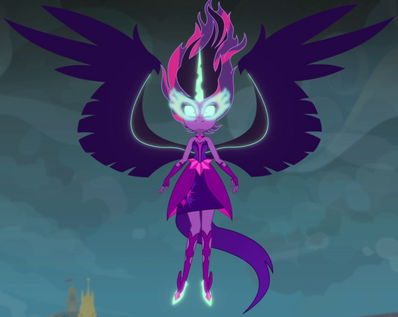 "(evil laugh) You were right! I didn't understand magic before... but I do now!!!"
- Midnight speaking to The Rainbooms
Midnight Sparkle (voiced by Tara Strong) is Sci-Twi's alter ego and Princess Twilight's dark side who was first introduced as the final antagonist in Twilight and Kyle's Adventures of Equestria Girls: Friendship Games.
Gallery
Trivia:
Although Sunset Shimmer saved Sci-Twi from her alter ego, it is known her dark side somehow got infected on her Equestrian counterpart, which her dark side is named as "Midnight Sparkle".
Midnight will become Jeffrey and Jaden's enemy in the future crossovers whenever Twilight loses control as the darkness spreads all over her.
Midnight will return in Twilight's Adventures of Equestria Girls: Legend of Everfree, and after that, she will replace Adagio Dazzle as the main antagonist of the Twilight's Adventures series.
In the Thunderbolts Adventure Series, Midnight Sparkle is haunting Courtney Elison and vows to get her power at all costs.
Community content is available under
CC-BY-SA
unless otherwise noted.