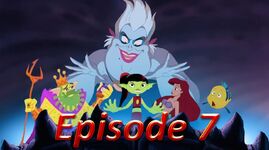 Mermaid Summer was Published on Apr 15, 2016 to YouTube. it is the seventh episode in the Juniper Lee's Adventures Series The NEW Adventures of Juniper Lee web series and the second episode of Season 2.
Plot
When June gets paired up with her crush Marcus Conner for a school project, it is up to Sabrina and Robocop to take over her Te Xuan Ze duties. But when a big corporation starts drilling up water they stumble upon the hidden kingdom of Aqualandia. Ruled by King Agatorus and his wife Ursula the Sea Witch. June and her new friend Ariel team up to stop these two water based villains from taking over Orchid Bay City. while S.H.I.E.L.D is still keeping tabs on Juniper and her team.
Trivia
Ursula is now married King Agatorus.
Sebastian the Crab and Flounder make cameo appearances.
The episode title "Mermaid Summer" is based on the book of the same name written by Mollie Hunter
Community content is available under
CC-BY-SA
unless otherwise noted.