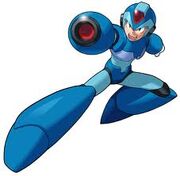 Mega Man X (Voiced by Ted Sroka) is the main hero in the Mega Man X series. He's armed with a cannon called the X-Blaster, and he's loyal to his team, The Maverick Hunters, a group of reploids (robots with free-will kinda like Astro Boy) who fight robots that have gone "Maverick" or rouge. He's partnered up with Mega Man Zero, a friend of X.
Histroy
X was created by Dr. Thomas Light, a old collage friend of Dr. Tenma. He feared that the ramifications of giving robots free-will, he steal X in a capsule for 30 years before being discovered by Tenma himself. He fought along side Simga a repected officer of the Maverick Hunters before he turned aginst them and bombared Abel City with missles. Luckily, no one was killied in the missle attack, but the war agianst Sigma have begun. For 5 years, X and Zero fought many battles with Sigma before he was finally defeated when Zero sacrificing himself. Afterword, X became tired of fighting. He later became a spirit to help Zero.
Trivia
Mega Man X is like the original Mega Man, but taller.
Mega Man and X aren't the same Robot
He does get an Evil Copy known as Copy X
Community content is available under
CC-BY-SA
unless otherwise noted.