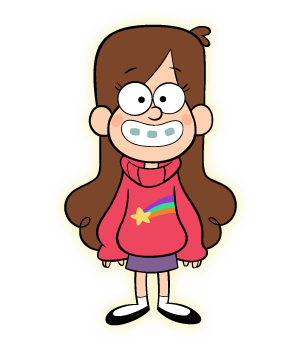 Mabel Pines (voiced by Kristen Schaal) is the slightly older twin sister of Dipper Pines. Energetic, bouncy, and optimistic, Mabel makes the best of every situation with a big goofy smile, while at the same time annoying her brother.
Personality
Mabel Pines is a buoyant, cheerful, bouncy, energetic, and full of spirit optimist who skips through life with a braces-filled smile and an assortment of extremely colorful knit sweaters. It is her outgoing personality and fearless curiosity that comes in handy when Dipper needs help solving a mystery, even if she isn't always aware of her silliness. Despite her cheerful attitude, she can occasionally get her feelings hurt easily, especially by her rival Pacifica Northwest. Mabel lives in a world of preteen novels (most are about vampires), and her fixation on finding her one true love occasionally lands her in sticky situations which ultimately require her brother's help. Still, despite all the weirdness in Gravity Falls, Mabel is always a "glass half full" kind of girl.
In the adventure series Mabel meets the team in Gravity Falls trying to find new members of the cyberchase fighters and take a vacation.They meet Mabel at The Mystery Shack and Mabel try to join the team and she got in and became a member of the cyberchase fighters along with Dipper(as long as she calls his Grunkle Stan everyday and emails him and visit her parents and visit them on holidays and visit Grunkle Stan in gravity falls)
Trivia
Jeffrey, Jaden and Hiccup will meet Mabel 

in 

Jeffrey, Jaden, Hiccup & Friends go to Gravity Falls

.

Mabel gets along with Pinkie Pie and the Mask the best.
Twilight, Sunset and Kyle will meet Mabel in The Rainbooms & The Z Fighters go to Gravity Falls after the events of "My Little Pony Equestria Girls: Legend of Everfree" and "Equestria Girls: Magical Movie Night".
Community content is available under
CC-BY-SA
unless otherwise noted.