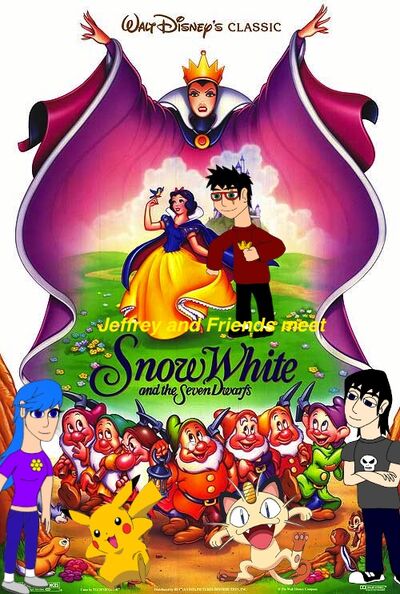 Jeffrey & Friends meet Snow White and the Seven Dwarfs is a crossover movie to be made by tigerman531. It's the first movie in the Jeffrey & Friends' Adventures series.
Plot
Jeffrey, Pikachu, Meowth, Nathan and Mitsuki meet a princess named Snow White, who is considered to be the fairest in the land. But our young heroes must protect Snow White from her wicked stepmother, the Evil Queen. Along the way, they meet the seven drawfs: Doc, Grumpy, Happy, Bashful, Sleepy, Sneezy and Dopey.
Songs
I'm Wishing/One Song
With a Smile and a Song
Whistle While You Work
Heigh Ho
Trivia
This is the first crossover movie in the Jeffrey & Friends' Adventures series.
Sam the Snowman from Rudolph the Red Nosed Reindeer will narrate this story. At the end, after the title "The End. A Walt Disney Production" appears and before the end credits, Sam will appear one last time and reveal that Jeffrey "went down in history".
Malficent, Jafar, Ursula, Hades, Captain Hook, Oogie Boogie, Dr. Facilier, Madam Mim, Ratigan and The Grand Duke of Owls will make a cameo appearance in a epilogue.
Scenes
Community content is available under
CC-BY-SA
unless otherwise noted.