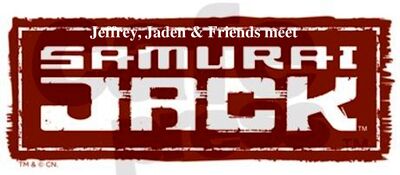 Jeffrey, Jaden & Friends meet Samurai Jack
is a upcoming TV series crossover to be made by Tigerman531 and Ren the God of Humor.
Plot
Jeffrey, Jaden and their teams meet a samurai named Jack who wields a magical sword. Together, they go and face the evil Aku. But before Jack could deliver the final blow, Aku opens a portal in time, which sends Jack, Jeffrey, Jaden and the others into the future where his evil is law. Now they must find a way to return to the past and once again beat Aku.
Trivia
Princess Celestia, Princess Luna, Spyro, Cynder, Sparx, King Julien, Maurice, Mort, Sora, Donald Duck, Goofy, Aqua, Riku, Kairi, Jack Frost, Tooth, North, Bunnymund, Sandy, Set the God of Chaos, The Chameleon, Turbo, Queen La, Discord, Venom, Nigel and Pitch will guest star in this TV series.
Sometime in one of the episodes, Aqua and Jeffrey will sing "I Will Always Be With You" from All Dogs Go To Heaven 2.
Community content is available under
CC-BY-SA
unless otherwise noted.