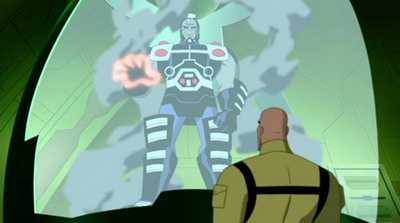 Jeffrey, Jaden & Friends' Storm Adventures of Justice League Unlimited - Alive! is an upcoming crossover to be made by Ren the God of Humor and tigerman531.
Plot:
Trivia
Set the God of Chaos, Charles Muntz, The Chameleon, Turbo, Queen Chrysalis, The Shredder, Cleo, Fang, Maleficent, Jafar, Nigel, Zira, Forte, Randall Boggs, Drake, will guest star in this.
Set's recruits join Luthor's side in the mutiny and Charles Muntz's Empire is on Grodd's side.
Scenes
Lex Luthor: Can any of you give me a good reason to let you live?
(Randall steps forward with Killer Frost)
Killer Frost: *uses her powers to freeze half of Grodd's villains*
Randall: *smirks and turns invisible*
Drake: ...?!
(Randall knocks out Drake and several of Charles Muntz's villains)
Sa'Luk: What's the meaning of this?!
Randall: *smirks* I'm disposing the traitors!!! *knocks out Sa'Luk*
Sa'Luk: *groans*
Lex Luthor: Killer Frost. You've got a future.
Set: *smirks* And Randall? You've just redeemed yourself.
Randall: *smirks* Gotta say, it's good to be on the winning side.
The Chameleon: And here I thought I would have to watch a family member die. 
Randall: Come on, cuz. You know you can't get rid of me that easily.
Lex Luthor: Get rid of the rest.
Killer Frost: You've got it.
Randall: With pleasure.
Community content is available under
CC-BY-SA
unless otherwise noted.