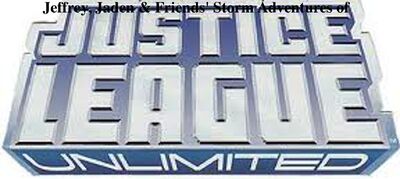 Jeffrey, Jaden & Friends' Storm Adventures of Justice League Unlimited
is an upcoming Jeffrey, Jaden & Friends' Storm Adventures series created by Tigerman531 and Ren the God of Humor.
Plot:
Superman, Batman, Wonder Woman and your other favorite superheroes, along with Jeffrey, Jaden and their team, returns as they team up with new heroes to fight the forces of evil. Along the way are old and new villainous characters and discover dark secrets that will test everything the Justice League believes in.
New members to the League
Traximus
Casey Jones
Miyamoto Usagi
Leatherhead
Patrick Dragonheart
Episodes
Season 1
Initiation
For the Man Who Has Everything
Kid Stuff
Hawk and Dove
This Little Piggy
Fearful Symmetry
The Greatest Story Never Told
The Return
Ultimatum
Dark Heart
Wake the Dead
The Once and Future Thing Part 1: Weird Western Tales
The Once and Future Thing Part 2: Time, Warped
Season 2
The Cat and the Canary
The Ties That Bind or Miracles Happen
The Doomsday Sanction
Task Force X
The Balance
Double Date
Clash
Hunter's Moon or Mystery in Space
Question Authority
Flashpoint
Panic in the Sky
Divided We Fall
Epilogue
Season 3
I Am Legion
Shadow of the Hawk
Chaos at the Earth's Core
To Another Shore
Flash and Substance
Dead Reckoning
Patriot Act
The Great Brain Robbery
Grudge Match
Far From Home
Ancient History
Destroyer
Trivia
Guest stars vary depending on the episode.
Community content is available under
CC-BY-SA
unless otherwise noted.