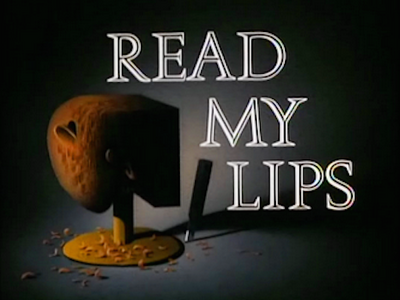 Jeffrey, Jaden & Friends' Storm Adventures of Batman: The Animated Series - Read My Lips is an upcoming crossover to be made by tigerman531 and Ren the God of Humor.
Plot
A new criminal mastermind is starting  a crime spree in Gotham City, and Batman is on the case to find out who it is.
Trivia
DJ gets to keep Scarface's destroyed first body at the end of the episode.
Scenes
Scarface
(Batman and the Justice Guardians follow Rhino to where his boss is at)
Jeffrey: *speaks to Jaden telepathically* Let's be careful. It could be a trap.
Jaden: *speaks back telepathically* Let's hope Rhino didn't see us after our little "talk" with him.
Jeffrey: *nods*
(They get on the roof and look through a window to spy on what's going on)
Rhino: I gotta see the boss!
Beetles: Looks like we're gonna find out who the leader is.
Ventriloquist: He's sleeping. He said he's not to be disturbed.
Rhino: Hey, man! It's important!! Batman and the Justice Guardians are on our case!!
Ventriloquist: I see. I'll see what i can do. *heads upstairs and knocks on the door* Sir? I'm terribly sorry.
(A voice is heard in the room)
Scarface: Hey!! I'm sleeping here!! I lay down, I close my eyes, what's that tell ya?!?
Ventriloquist: Yes, sir. But Rhino says it's important.
Scarface: Oh Rhino says it's important huh?!? Well it better be, or there's gonna be fireworks, get me?! Okay take me out there.
(Ventriloquist came back downstairs, and what Batman and the team saw surprised them)
Scarface: This better be good, you mugs!!
Alexis: ...!!!!! You're kidding me. Their boss.... is a puppet...?
Xion: It's impossible...
Tammy: That's siwly!
Jeffrey: I don't like this.
Scamper: So Gotham City's new threat is an overgrown toothpick.
Twilight: Ssssssssshhh!!! Everyone. Listen.
Scarface: Okay. Talk, Rhino! What's so important that i can't get a good night's sleep?
Rhino: *sweating* Uh, Batman and the Justice Guardians' got me figured, Scarface! I don't know how, but they came down on me like a cast-iron safe!!
Ratso: Batman and the Justice Guardians? *to the Ventriloquist* We're talking real trouble! What are we gonna--?
Scarface: HEY HEY!!! Who're you talking to, creep?!?! *looks at the Ventriloquist* He's just the hired help!!! *to Ratso* I'm the boss here!!! You talk to me!!!!!
Mugsy: Sorry, boss. He's new. He don't know the score.
Scarface: Yeah, well he better get with the program pretty quick!!! I don't stand for no lack of respect!!!
Nails: *watching this* That is one angry puppet...
Batty: I'll say. He's starting to creep me out.
Scarface: This Batman and Justice Guardian business can only mean one thing: we've got us a squealer.
Mugsy: No, boss. That can't be. None of us want to screw up a sweet deal like this!
Scarface: Glad to hear it, Mugsy. 'Cause if there is and I find him, it's drapes for that rat!!!!!!
Ventriloquist: Now, Mr. Scarface, remember your blood pressure.
Scarface: SHUT UP!!!!! I want your opinion, dummy, I'll pull your string!!!
Jeffrey: Okay then...
Aqua: Oh my... This Scarface feels like a real person. Even if he's made of wood.
Xion: It's like he's in control...
AppleJack: Impossible. He's just a hunk of wood.
Jeffrey: Maybe, but there's more to this.
(They hear the gangsters talk about Scarface)
Rhino: He's just tired. Iritable. He's really a genius, Scarface is.
Ratso: You mean the Ventriloquist is the genius.
Rhino: Naaaaaah. Like Scarface said, "he's just hired help." Scarface, he's the real brains.
Jeffrey: Hm...
Beetles: I say we go in there and arrest that ventriloquist.
Batty: What about Scarface? If he IS alive, we should arrest him too.
Princess Cadence: I doubt he's alive. I'm not sensing anything magical from him. He just seems to be a simple wooden puppet.
Jeffrey: Either way, we should have a word with the Ventriloquist.
Shining Armor: Keep your guard up.
Jeffrey: *nods* Right.
Rainbow Dash: Let's move!
Facing Scarface and men
(Batman and the Justice Guardians slowly start to wake up)
Jeffrey: Ugh...
Jaden: Ooooooooh.... my head.....
Aqua: *groans* ...Where...are we?
Scamper: *looks down* ....!!! I think "Where" is the least of our concerns...
Xion: *sees this and gasps*
(Batman and the Justice Guardian members are hung above a pit of wooden arms with VERY sharp nails on the fingers)
Nails: ...Mommy.
Spike: And I thought I had sharp claws...
Jeffrey: Oh, great.
Scarface: See the bat and the circus of freaks ain't so tough!! Comes up against Scarface, they're just another bunch of dummies!!
Rainbow Dash: Yeah? Well, look who's talking!!!
Scarface: It was a trap, freaks!! Start to finish!! And you fell for it like a world class sucker!!
Manny: Yeah? Well, we've gotten out of worse traps than this.
Sweetie Belle: He was onto us this whole time?!
Xion: *gulps*
Scarface: The dummy here spilled the beans you've been in his room!!
Jeffrey: *growls*
Jaden: What?! He told?!?
Scootaloo: Why, you little--
Scarface: I had the room searched and lookie what I found! *the Ventriloquist holds out his bowtie with the tiny microphone Batman placed on it*
Tammy: *to herself* Uh-oh...
(Scarface kicks the bowtie to the ground, the Ventriloquist helps him down and he steps on the microphone until it breaks)
Jeffrey: You think you've won?
Batman: You're not as smart as you think you are, Scarface.
Alexis: You have no idea what kinda people we are in person.
Pinkie Pie: Yeah! You and your goons better watch it, because we're the craziest bunch of heroes you've ever seen!
Scarface: I'd watch my mouth if I were you, freaks! One bullet through those ropes and your history! Get my point? *chuckles evilly*
Nails: *gulps* Yeah. Literally...
May: We are not afraid of you, you oversized wooden footstool!
Tammy: *hisses*
A Souvenir
Ventriloquist: *cries as he holds Scarface's destroyed body*
DJ: Whoa...
Rainbow Dash: .....? What's he crying over?
Jeffrey: "Scarface" is gone. That's why.
Scamper: You'd think he'd be happier with his boss gone.
Xion: It's never that simple.
Nails: Alright, sport!!! *puts the cuffs on the Ventriloquist* It's to the Asylum for you!!!
DJ: *looks at the destroyed Scarface body*
Diego: What're you doing, son?
DJ: Scareface wooks harmwess now. Think i can have the body? Pwlease?
Shira: Only if Batman says so, son. *brings DJ to close her*
DJ: Okay.
Diego: Well, Batman?
Batman: ...Go ahead. *gives Scarface to DJ*
Shira: *smiles* I guess that's a yes.
DJ: *purrs*
Tammy: DJ? What do you want with this ugwy thing?
DJ: Use it as a scwatch post.
Xion: *smiles* I guess that's the only thing it's good for now. Besides firewood.
DJ: *smiles*
Shira: Be careful now, DJ. You don't wanna get splinters.
DJ: I will, mommy.
Community content is available under
CC-BY-SA
unless otherwise noted.