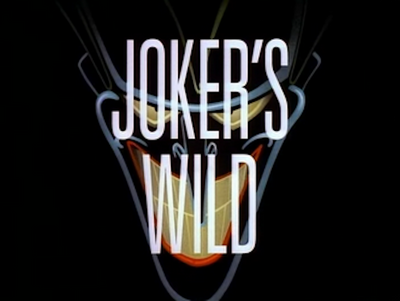 Jeffrey, Jaden & Friends' Storm Adventures of Batman: The Animated Series - Joker's Wild is an upcoming crossover to be made by tigerman531 and Ren the God of Humor.
Plot
Trivia
During this episode, Alexis hates her time at the casino since she is against gambling.
Scenes
Casino News
(The TV shows Summer Gleeson)
Summer: This is Summer Gleeson live at Gotham Palasades Boardwalk where it's opening day at billionaire Cameron Kaiser's latest showplace resort. Total price tag for this fund-seekers mecha, nearly $300,000,000.
Jeffrey: Hm...
Alexis: Did I have to come here? I hate casinos...
Jeffrey: I know. But this doesn't feel right.
Jaden: I know how you feel about gambling, honey. But we're just here to make a public appearance. That's all.
Alexis: I just hope it doesn't last long.
(Summer holds the microphone in front of Mr. Kaiser)
Kaiser: It's true, Summer. I've set out to create the most obulant gambling resort in the world. After all, what's a few million here and there as long as my guests are happy.
Jeffrey: *listens silently*
Summer: Gotham's elite have turned out in style for the opening. *approaches Bruce Wayne* Bruce Wayne. Perhaps you can give us a hint about the top secret theme of Mr. Kaiser's new casino.
Bruce Wayne: Looks like we'll find together, Summer.
Summer: And what are your thoughts, Mr. Dragonheart?
Jeffrey: Hard to say. Anyone's guess is as good as mine.
Jaden: I'm with my big brother on this one. The possibilties are infinite.
Alexis: *thinks to herself* Oh, brother.
Kaiser: *holding a big pair of scissors* Ladies and gentlemen!! The wait is over!! I officially welcome you one and all!!! *cuts the ribbon with the scissors* To Joker's Wild!!!
(The tarp falls off, revealing a big carving of the Joker's head that laughs)
Joker: *watching this* SAY WHAT?!?
(The Justice Guardians were shocked)
Aqua: Are you kidding me?!?
Xion: *gasps*
Tammy: *shrieks in fright*
DJ: *gasps*
Princess Cadence: What a horrid sight...
Jeffrey: Yikes...
Summer: *to herself* Ugh! That's disgusting!
Cameraman: *whispers* Psst! Summer, we're on the air!
Summer: Oh! Uh-! *smiles* There you have it! Let's get a reaction from the guests! Uh, Mr Wayne! *holds the microphone in front of him*
Bruce: No comment.
Summer: Mr. Dragonheart?
Jeffrey: No comment! *to the team* Let's go, guys!
Jaden: ...... You heard him! Let's move!
(The Justice Guardians followed Bruce Wayne away from the casino)
In the casino
(In a casino resort room)
Scamper: So much for being here just to make a public appearance...
Alexis: *sighs in annoyance* Did you have to bring me to this awful place, Jeffrey...?
Jeffrey: I don't like it anymore than you do, but a casino based on the Joker? We can't ignore that. Kaiser's up to something.
Alexis: You said we would just be here for a public apperance. I didn't think you'd bring me inside this horrible place!
Jeffrey: I'm sorry...
Jaden: Honey. I know you don't believe in luck and hate gambling. But I promise. Once we find out what's going on, we will make it up to you.
Alexis: You promise?
Pinkie Pie: Cross our hearts, hope to fly and stick a cupcake in our eyes!
Alexis: *sighs* .... Fine. But don't force me to gamble. Please.
Jeffrey: We promise!
Alexis: I'm sorry! Really.
Jeffrey: *smiles* It's okay. The sooner we find out Kaiser's up to, the better we can leave.
Xion: Where do we start, daddy?
Jeffrey: *starts thinking* Hm...
Aqua: I say we check Kaiser's office.
Jeffrey: *nods* Agreed.
(Batman comes in)
Batman: Ready?
The Mask: *as a sailor* Ready to go, mon capitaine!
Jaden: Alright. Let's go.
Xion: Time to get this over with.
Community content is available under
CC-BY-SA
unless otherwise noted.