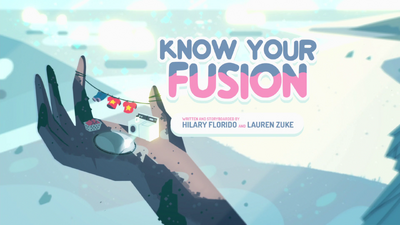 Jeffrey, Jaden, Hiccup & Friends meet Steven Universe - Know Your Fusion is an upcoming crossover to be made by Ren the God of Humor, Aaron the Meerkat and Tigerman531.
Plot
Trivia
Scenes
Sardonyx's Back!
(Three giant hands grab Smoky's yo-yo's)
Sardonyx: *nods her head "no"* Mmm-mmm-mmm.
Smoky Quartz: *gasps and smiles* Sardonyx!!!
Hiccup: Not again!!!! *runs hide under the bed*
Baby Lily: *giggles*
Jaden: *chuckles* Wow! What a surprise!
Jeffrey: *laughs*
Starlight: Is Hiccup okay?
T Bone: Oh Hiccup is more than okay. he doesn't like it when giant woman fusions are smothering him. *laughs*
Midna: *smirks* I'm gonna get a LOT of fun out of this.
T Bone: hold on, I'll get the camera!
Baby Lily: *crawls to Hiccup* Uncwe Hiccup?
Snotlout: hey Sardonyx! If you're looking for Hiccup, he's under the bed!
Hiccup: Snotlout!!!
Baby Lily: Uh oh. *giggles*
Sardonyx: *smiles* There you are,
Hiccup: oh no! Guys help me!
Jaden: *chuckles and smirks* You're on your own, Hiccup!
Jeffrey: *snickers* Sorry, dude.
Sardonyx: *grabs Hiccup* oh I'm happy to see you again! *hugs him crushing*
Hiccup: ack! You're crushing me!
Astrid: *laughs* You're irresistable, dear!
Sardonyx: of course he is! How about a little sugar?
Tammy: *laughs from this*
DJ: *laughs too*
Hiccup: no! Not sugar! Astrid's job is the give me sugar! Please! No! No! No! No! *then gets smooched by Sardonyx!* aaaaaggghhhh!!!!!!!!!
Snowflake: Why are we letting Sardonyx do this to Hiccup?
DJ: It's kinda funny.
Astrid: He's irresistible, I gave them permission to do that.
Scamper: Besides, Hiccup will live. He's had worse.
Hiccup: *Wipes Off Sardonyx's Saliva off of him* Why do you guys think this is amusing?
Discord: Well, the Crystal Gems do like you. Besides, Astrid's right. You ARE irresistible! *laughs*
Hiccup: Hah Ha, I Get it.
Pinkie Pie: *smiles* Oh, come on, Hiccup. She was just having fun with you.
Rainbow Dash: *smirks* Yeah. Lighten up!
Community content is available under
CC-BY-SA
unless otherwise noted.