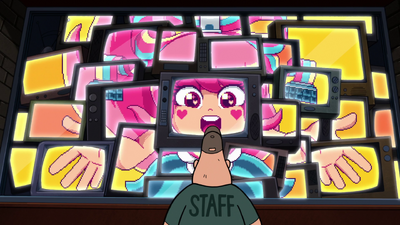 Jeffrey, Jaden, Hiccup & Friends go to Gravity Falls - Soos and The Real Girl is an upcoming crossover to be made by Tigerman531, Aaron the Meerkat and Ren the God of Humor.
Plot
Trivia
Scenes
.GIFfany Goes Crazy!
(.GIFfany appears on a TV screen)
Starlight: *gasps in shock*
DJ: Whoa!
Jaden: But... but this is impossible!! She's just a character from a program! ...... Isn't she?
Hiccup: What the Thor?!
Jeffrey: I think I'm beginning to see why someone wanted this game destroyed...
Mabel: Uh oh.
Dipper: Take it from someone who brought an arcade game to life, this will not end well.
Weebo: *shows Daffy Duck saying "Mother." on her screen*
Soos: Don't worry. I'm pretty sure she's stuck on TV screens.
Brain: Right. It's not like she can break through the screens, right?
(GIFfany travels through the game screens until she stops at "Fight Fighters")
Rumble: Ha! A new challenger approaches! Prepare to be-!!
(Suddenly, Rumble is shocked by .GIFfany, whose spreads lightning to the stage)
Scamper: *sees this* ..... Meh. I'm sure he's fine.
Spike: Well, she's definitely not happy.
Brain: What makes you say that?
(.GIFfany makes her way to the animatronic stage)
Astrid: oh that's not good, we got to get out of here.
Soos: Oh, boy. *runs to Melody* So, hey. Anyway you, uh, wanna move this date far away into the forest away from all electronics and people?
Melody: What? But the floor show's about to start.
Soos: Uh...
(The five mascots of Hoo Ha Owl's starts playing their instruments)
Hoo-Ha: Hoo! Hoo! Hoo! Who wants to hear Hoo Ha the Owl? Oh! Who... *shuts down*
(Lights shine on the beaver cheerleader, who gets possessed by .GIFfany)
.GIFfany: Hello, friends. Hoo Ha the owl is dead.
(The lights go out)
Baby Lily: *whimpers nervously*
Tootlhess: *Growls as he covers Lily*
Xion: *gasps*
.GIFfany: This next song goes out to my forever boyfriend, Soos.
Melody: Soos, what's going on?
Soos: No time to explain! We gotta get out of here! *grabs Melody's arm and runs for it*
Hiccup: Ok guys, Let's get out of here!
.GIFfany: The only way out, Soos, is in my arms! *snaps her fingers as her eyes glow red*
(Then she takes control of the animatronics)
.GIFfany: After them!
(The animatronics come to life and start attacking)
Jesse: This is like Five Nights at Freddy's!!! Only real and a lot scarier!!!
Snotlout: Well, would you like a job application as the security Guard?! neither am I! Run!!!
Meowth: *gulps fearfully* I always hated that game...
Beetles: At least we don't have to worry about the animatronics jumping out from nowhere!
Batty: Always hated that.
Everyone runs out except Soos, Melody, Dipper and Mabel, And the justice guardians and team berk*
Jaden: *bangs at the door*
Baby Lily: *hugs Alexis tightly*
Tuffnut: Help! we've been trapped by a Crazy Psychopath Video game Japanese Anime School Girl!!! Help!!!!
Aqua: Don't panic!! We can stop her!! *summons her Keyblade*
Hiccup: Soos, better Tell Melody a Truth before we get Smoked!
Xion: *summons her Keyblade*
Jaden: DJ?! Keep my daughter safe!! *activates his Duel Disk*
DJ: Got it!!
Hiccup: Toothless you too.
Toothless: *Grunts and goes with DJ and Lily*
Baby Lily: DJ? Toothwess.... I'm scawed...
DJ: *hugs her* Shh...
Toothless: *Holds Her*
.GIFfany: I'm sorry, Soos, but you can't run away from our relationship! *takes control of skee-ball and the games shoot balls at them*
Jeffrey: *deflects some skee-balls with his Keyblade*
Jaden: *plays a card* Go Mirror Gate!!! *the trap card defends them from the skee-balls*
Aqua: Hide! Quick!
Steven: *Bubbles up the whole Team for a shield*
Soos: *pulls down an arcade game to cover them with*
Sid: She's stark raving mad!!
Fishlegs: Soos, tell Melody a truth!
Soos: *to Melody* So about all this. I may have purchased a dating simulator that obtained sentience and went crazy.
Sid: And now she's gonna kill us all!
.GIFfany: Oh I am crazy. Crazy for you Soos!
Jaden: That program is possesive!! Just like Yubel was!!
Meowth: She's really freaking me out!
.GIFfany: *shoots lightning at the gang*
Nails: What will we do?! What will we do?!
(Melody notices part of her hair is on fire and screams as she tries to put it out)
Brain: Hey! Watch it!!
Snotlout: Is there anyway to stop this Robot?!
Soos: Oh no! *puts out the fire on Melody's hair for her* I'm so sorry, Melody! 
Batty: *to Jaden, Jeffrey and Hiccup* Any of you got a plan?
Soos: I'll fix this. It's me she wants. I'll distract her while Dipper, Mabel, The Justice Guardians and Team Berk keep you safe! It's the only way!
Rainbow Dash: Sounds like a plan! I'm not gonna let a computer game character scare me!
Melody: Soos These Are Children And People.
Bartok: Lady. We've dealt with things you cannot imagine.
Pinkie Pie: Plus, you realize you're talking to a bunch of Toons, right?
Hiccup We Can talk about that later, Right now, we have a Video Game character to stop with! Soos, Go!
Soos: The only way!!!!! *runs to the kitchen as skee balls keep hitting him*
Jeffrey: Okay. We're gonna have to help Soos fight our way out.
Jaden: On it!! *draws a card* I play Pot of Greed!! Which means I can draw two more cards!!!
Baby Lily: Get 'em, Daddy!
Community content is available under
CC-BY-SA
unless otherwise noted.