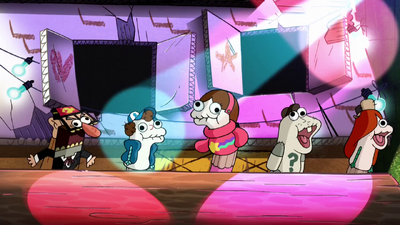 Jeffrey, Jaden, Hiccup & Friends go to Gravity Falls - Sock Opera is an upcoming crossover to be made by Tigerman531, Aaron the Meerkat and Ren the God of Humor.
Plot
Trivia
Scenes
Puppets and Passwords
(At the Gravity Falls library)
Dipper: Alright, gang. Today is the big day!
Jeffrey: Right.
Mabel: Big day!!!
Baby Lily: *giggles*
Dipper: Soos, Jeffrey, Xion, Kowalski, Hiccup, Pearl and Peridot finally fixed up the laptop. If this thing works, we could learn the identity of The Author and unravel the greatest mysteries of Gravity Falls.
Scamper: Then maybe we can finally relax and enjoy our summer vacation for a change.
Steven: Well maybe we could.
Dipper: You ready?
Jaden: *smiles* As I'll ever be!!
Hiccup: Well, let's give this a try.
Jeffrey: *smiles* Right behind you.
Mabel: Oh, I'm ready, baby. *opens a pop-up book to a page of an infant with the word "Ma-ma" on it* Ma-ma.
Toothless: *Growls confusedly*
Rainbow Dash: This is gonna be a long day. I can already tell.
Dipper: This is it. This is it. *turns on the laptop*
Hiccup: Here we go.
Community content is available under
CC-BY-SA
unless otherwise noted.