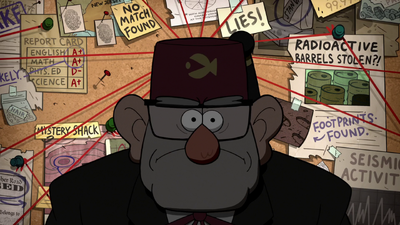 Jeffrey, Jaden, Hiccup & Friends go to Gravity Falls - Not What He Seems is an upcoming crossover to be made by Tigerman531, Aaron the Meerkat and Ren the God of Humor.
Plot
Trivia
Scenes
Conflict in the Pines Family
Dipper: This all stops... NOW!!!! *about to press the button*
Grunkle Stan: *comes in* DON'T TOUCH THAT BUTTON!!!!!!!! *pants where he stands*
Jeffrey: *glares at Grunkle Stan* I'm gonna say this once. Shut it down!
Hiccup: We know your little Game!!!!
Grunkle Stan: Dipper. Everyone. Just back away.
Jaden: No dice, "Mr. Pines"!!!
Grunkle Stan: Please don't press that shut down button. You've gotta trust me.
Manny: "Trust you"?! Why in the world should we trust you?!
Twilight: You don't know what you're doing, Stan!!
Astrid: You were trying to bring this world into Chaos!
Discord: Which is MY job, by the way!!
Dipper: And we should trust you why?! After you stole radioactive waste?! After you've lied to us all summer?!? I don't even know who you are!!!
Hiccup: Maybe you're not the Responsible Uncle of your Niece and Nephew than we thought!!!
Rainbow Dash: I say we teach this guy a lesson!!!
Grunkle Stan: Look!! I know this all seems nuts, but I need that machine to stay on!!!! If you just let me explain!!
Jaden: Why would you want to activate a machine like this?!?! It's dangerous!!!
Jeffrey: Especially if it becomes unstable!!!
Hiccup: You're going to kill us all if this stays on! We're taking our chances anyway!!!!
(Grunkle Stan's watch beeps)
Grunkle Stan: Oh no!!!! Brace yourselves!!!!
(The machine 'causes everyone to fly in the air)
Alexis: *screams as she's lifted off the ground*
Steven: Whoa!! We're All Floating!!!
Jeffrey: *quickly grabs Aqua's hand, who then quickly grabs Xion's hand*
Baby Lily: *as she floats off the ground* Weeeeeeeeeeeeeeeeeeeeeeeeeeeeee!!!!!!!
Midna: ...!!! *uses her hair to grab Baby Lily* Hang on tight, Lily!!!
Amethyst: All right! I can Float!! Whoo!!!
Rocko: Guys! This is no Time for Fun! We're in the serious Situation!!!
Tammy: *clings onto a piece of wood on a wall with her claws*
DJ: *holds Snowflake's paw* I'm not letting go, Snowflake!!!
Filburt: *Floating* I'm going to hide, call me when it's over! *Hides in his Shell*
Dipper: *holds onto another piece of wood that's on a wall*
Jeffrey: Last chance, Stan!!! Shut it down!!!
Mabel: Dipper!!!! *her foot is caught on a cord that leads to the shut down button*
Pinkie Pie: Mabel!!!
Astrid: you're on the Shut Down Button! Do it!
Dipper: She's right, Mabel!! Hurry!!! Shut it down!!!
Starlight: Hurry!!
Community content is available under
CC-BY-SA
unless otherwise noted.