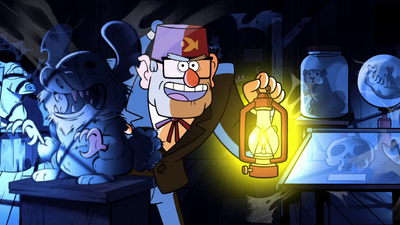 Jeffrey, Jaden, Hiccup & Friends go to Gravity Falls - Little Gift Shop of Horrors is an upcoming crossover to be made by Tigerman531, Aaron the Meerkat and Ren the God of Humor.
Plot
Trivia
Scenes
Hands Off!
Swap Met
Hand-Witch Cave
(Grunkle Stan, Dipper, Mabel, the Justice Guardians and Team Berk are climbing their way to a cave at the top of a mountain)
Scootaloo: Are we there yet...?
Alexis: I think so.
Mabel: According to the Swap Meet pamphlet, the Hand Witch lives in a horrible Hand Witch lair, on Hand Witch Mountain.
Grunkle Stan: Stop saying "Hand Witch."
Scamper: Yes, please...
Ruffnut: *Chuckles*
Tuffnut: *Snickers*
Both: Hand Witch! Hand Witch! Hand Witch! Hand Witch! Hand witch! Hand witch! Hand Witch!
Baby Lily: *covers her ears* Someone pwease make them stop!
Snotlout: *Covers his ears*, Apparently, "Stop" Isn't a magic word...
Weebo: Guys!! *shows a clip of Moe saying "Why don't you be quiet?" while hitting Shemp*
Jaden: Please! Let's just focus on getting Mr. Pines' hands back!
Jeffrey: Ugh...
Tuffnut: *coughs* Fun Killer.
(As they walk in the cave)
Tammy: I have a bad feeling about this....
DJ: Same here...
Donald: Ohh...
Goofy: I'm scared too, Donald...
(In the dark, something touches Mabel)
Mabel: Grunkle Stan, did you just tap my shoulder?
Grunkle Stan: Kid, I can't tap anything.
Riku: I got a feeling we're not alone in here.
Aqua: *to Jeffrey* I feel like the Hand Witch has company...
Jeffrey: *nods* Everyone, stay together.
Snowflake: ......? Did you hear that? It sounded like..... fingers tapping.
Fishlegs: Oh dear.
Batty: Was that any of you...?
Lea: Hey. I have MY hands in my pockets.
Rainbow Dash: I don't even have hands.
DJ: *gulps*
(Two hands poke at Dipper)
Dipper: Guys, can you stop tapping both my shoulders?
Jeffrey: It's not any of us.
Beetles: Discord! You better not be messing with us!
Dipper: No. Hold on. It felt more like.... human hands....
Baby Lily: ...!! *hugs Alexis tightly*
Hiccup: you don't think that.....?
(Grunkle Stan shines a flashlight up and to everyone's horror, there are disembodied moving hands all around the cave walls!!!)
Spike: *screams*
Xion: *screams and hugs Aqua's leg tightly*
Sid: AAHHH!!! Zombie hands!!!
(Everyone else screams)
(The hands jump down and start to attack)
Grunkle Stan: HANDS!!!! LOTS OF HANDS!!!!!!
Atticus: You don't think these hands belonged to the victims of the Hand Witch do you?!?
Riku: No doubt about it.
Jaden: *activates his Duel Disc* Focus up, everyone!!
Toothless: *Uses Plasma Blast on the Hands*
Dipper: *punches at several hands*
Patch: *growls and attacks a hand*
(One big hand grabs Dipper's face)
Xion: *gasps*
(Several hands jump and slap Grunkle Stan's face)
Batty: They're everywhere!
(Mabel does Rock, Paper, Scissors with two hands. Mabel does paper but the left hand does scissors. Mabel screams as the two hands advance on her)
Jeffrey: *tosses a hand off of him* Get your hands off me!!
Snotlout: Hey Guys! Give me a Hand! *Hands Grab him* That's not What I meant!!!
Discord: *grabs a big hand with his lion paw and both hand and Discord wag their thumbs* One, two, three, four! I declare a thumb war! *turns into a snake* Snake in the grass! *attacks the hand*
(Some hands poke at Baby Lily)
Baby Lily: Stop twouching me!!!
Tammy: HEY!!! *tackles at several of the hands poking at Lily*
DJ: *attacks some hands too* Keep your hands to yourselves!!!
Hands: *Pokes Their Eyes*
DJ: OW!!!! *rubs his eyes* That smarts!!
Jesse: *does the hand slaps game with two hands. The hands are hiding underneath his palms, until they quickly smack his palms* OW!!!! *shakes his hands*
Xion: *growls*
(Several hands jump on Xion and tickle her)
Xion: *giggles* Hey! Stop! Quit it! *laughs*
Tuffnut: Hang on Xion! i'll save you as i deal with those Hands! *Wrestle a hand with Arm Wrestle*
(Two hands cover over Snowflake's eyes)
Snowflake: Hmmmmmmmmm..... May? Mr. Dragonheart? Astrid?!
DJ: ...!!! *snarls and gets the hands off her* Snowflake!!!
Hands: *Punch DJ Hard*
DJ: *groans, then growls* That's it! No one sucker punches me!!
Clay Day
(The Justice Guardians and Team Berk are watching TV with Dipper, Mabel, Soos and Grunkle Stan. Only Mabel is enjoying what is on.)
Cinnamon: You did it, Shimmery Twinkleheart!
Shimmery Twinkleheart: No. You did it Cinnamon.
Mabel and Shimmery Twinkleheart: Because you believed in yourself!
(Everyone else groans in annoyance)
Manny: Who comes up with this stuff?
Dipper: Everything about this is bad.
Tammy: *rubs her face with annoyance while sitting on Xion's lap* This is just as annoying as watching "Love That Baby" with Robin was....
Grunkle Stan: Well, that just put me 90 minutes closer to death.
Snotlout: This is like watching Teletubbies when i had to babysit Jaden's "Precious" Girl!
DJ: *to Snotlout* Hey! Watch it!
Snotlout: Shut it, Sylvester!
Baby Lily: I did say I wanted to watch Sesame Stweet!
Donald: Aw, phooey! Can't we just watch something else?
Mavis: How about Kakie?
Snotlout: Oh yeah! she's right, let's watch Kakie, and when it comes it'll turn into a HORRIBLE DESTRUCTIVE MONSTER!!!!!!!!
Batty: Aw, don't even get me started...
Jaden: Uh... I think we've ALL had our fill with kid's shows right now, Mavis.
Tuffnut: Not even Barney?
Spike: Don't even go there.
Nails: NO!!!! PLEASE!!!! I'M BEGGING YOU!!!! ANYTHING BUT THE DINOSAUR WITH HEPATITIS!!!!
Tuffnut: Says who?
Rainbow Dash: Maybe we could watch a game.
Aqua: How about something that we ALL can enjoy together instead?
Meowth: Anything is honestly better than this.
Hiccup: We can watch my second film of the Trilogy. or the first.
Soos: Dude, I think you just broke the 4th wall.
Hiccup: Well everyone does that in Animation. See Chowder.
Grunkle Stan: *takes out a video tape* It's time you kids learned to watch the classics from my day.
Baby Lily: Ooooh! What's that?!
Baby Flurry Heart: *coos*
Jeffrey: *smiles* It's a video tape. They were the best way to watch a movie at home back before DVD's were invented.
Meowth: *smiles* And we got some personal good memories about them.
Pikachu: *nods* Pikachu.
Mabel: Ooo, old people movies. Get ready for references we don't understand, and words we can't repeat.
Batty: Oh, you might be surprised.
Ruffnut: Well, i like to see this.
The Mask: *opens the top of his head, reaches in and pulls out bags of popcorn* Popcorn anyone?
Xion: *takes one* Thank you.
Snotlout: oh gee. another flick that someone loves, oh gee, what's it all about this time, huh?
Grunkle Stan: *plops the video cassette in the player*
(Baby Lily and Flurry Heart watch with interest)
(The title appears on the screen. "The Voyages of Loinclothiclese.")
Jeffrey: Hm. Haven't heard of this one.
Jaden: Me neither. Maybe it's a box office bomb best left forgotten like Howard the Duck.
Jeffrey: *nods*
Community content is available under
CC-BY-SA
unless otherwise noted.