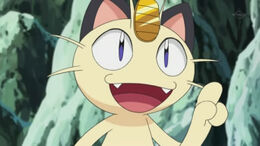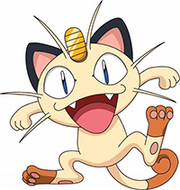 "You mess with the cat, you get the claws." - Jeffrey's Meowth threatening a bad guy.
Jeffrey's Meowth (voiced by Maddie Blaustein) is known as Scratch Cat Pokemon. He is one of the founding members of Jeffrey's team. Like Team Rocket's Meowth, he walks and talks like a human. The main difference is that Jeffrey's Meowth isn't evil like the other Meowth is. Jeffrey's Meowth has learned to talk after listening to Jeffrey reading books out loud many times with him.
Trivia
The attacks that Jeffrey's Meowth knows are Slash, Shadow Ball, Water Pulse and Shock Wave. He also knows moves such as Aerial Ace, Shadow Claw, Night Slash, Pay Day and Endure.
The only people Jeffrey's Meowth doesn't scratch are Xion, Aqua and Lily.
Just like Team Rocket's Meowth, Jeffrey's Meowth harbor's a crush on May's Skitty.
Meowth likes to read the Goosebumps books. In Jeffrey, Jaden & Friends' Storm Adventures of Goosebumps, Meowth's knowledge of the monsters from the stories comes in handy.
Meowth has a job at the ToonTown Library.
In Jeffrey, Jaden, Hiccup & Friends' Storm Adventures of My Little Pony: Friendship is Magic - A Hearth's Warming Tail, Meowth is portrayed in Twilight's story as Felix Moneycat, the deceased business partner of Snowfall Frost (Starlight Glimmer's story counterpart).
Community content is available under
CC-BY-SA
unless otherwise noted.