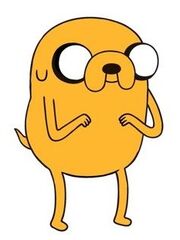 Jake the Dog (voiced by John DiMaggio) is a magical dog and Finn's constant companion, best friend and adoptive brother. Jake has Shape Shifting ability so he can "stretch" into different objects.
Trivia
Jake has a fear of Vampires (with the exception of Marceline) and claustrophobia.
Jake is based on Bill Murray's character in Meatballs, Tripper Harrison.
Jake and Finn will meet Craig & his friends and will join them in Craig & Friends meet Sonic the Hedgehog.
Gallery