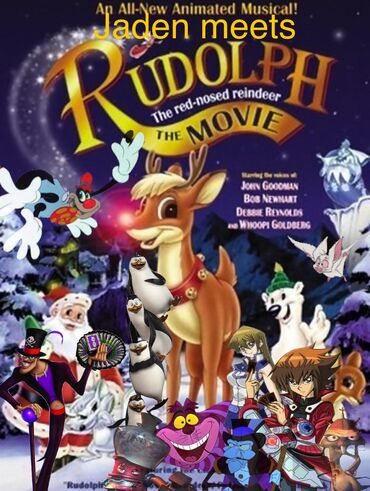 Jaden meets Rudolph the Red Nosed Reindeer is an upcoming Jaden's Adventures movie created by Ren the God of Humor. This will also be a Christmas special for Season 1.
Plot:
Rudolph is born with red nose that glows, and everyone makes fun of him for it. But Jaden and his friends don't believe so. They want to help Rudolph achieve his dream of hopefully becoming part of Santa's sleigh team. But an evil witch named Stormella has chilling plans for the Norht Pole. And Dr. Facilier is back, and is searching for a soul to take his place in the land of the dead. Rudolph must show courage, character, and a heart that's true in order to stop Stormella and Dr. Facilier, save Christmas, and have his dream come true.
Trivia
Dr. Facilier will also guest star in this movie.
Ray the Firefly will be mentioned.
Songs
I Hate Santa Claus
Rudolph the Red Nosed Reindeer (song)
Scenes
Community content is available under
CC-BY-SA
unless otherwise noted.